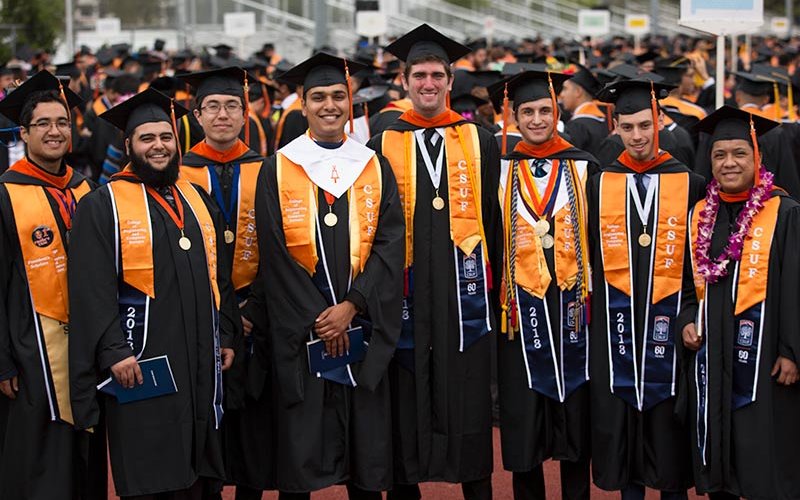 Eight Titans, four years, two degrees.
These students are the inaugural class to earn both a bachelor's degree and master's degree in computer engineering.
The Cal State Fullerton students faced rigorous coursework, conducted research and team-based projects on such topics as rocket science, robotics and assistive technology for disabled individuals, and mastered time-management skills to stay on track in the four-year integrated B.S.-M.S. program in computer engineering.
The students will celebrate their accomplishments at this Sunday's College of Engineering and Computer Science ceremony. The 8 a.m. ceremony will be held on the athletics fields north of Titan Gym.
Armed with the two degrees, these strivers in the Class of 2018 are ready to meet increased industry demands for skilled computer engineers, with most already landing jobs before they graduate.
"The program gave me a head start for my career and helped me to stand out in my job search," said Harkishan Singh Grewal, who is the first in his family to earn a college degree and is considering pursuing a doctorate in computer science. After graduation, he will go to work for Naval Air Systems Command as a computer engineer.
Classmate Antonio Carrera, who balanced being a President's Scholar and University Honors student, along with community service and internship requirements, agreed it was worth the sacrifice.
"I would say one of the major benefits of having two degrees is that it sets us apart from the rest of the crowd," said Carrera, who aspires to become an astronaut. "By earning both degrees in four years, we are better equipped to enter the workforce sooner, and can show that we are capable of handling challenges and responsibilities."
Carrera added that the program also helps to develop non-engineering skills, such as adaptability.
"In the world after college, challenges and problems will arise without warning. Being adaptable means becoming confident in choosing alternative paths when something blocks your current path," said Carrera, who has been hired by Raytheon Co. as a systems engineer and plans to pursue a graduate degree in space engineering.
Pablo Pelayo, another soon-to-be graduate from the program and first-generation college student, shared that despite the grueling course load, earning two degrees outweighed the demands of the program, which also helped him bolster skills needed for the workforce.
"Participating in research, alongside courses, enhanced a few of my skills, which are essential for a career, including teamwork, communication skills, leadership, reliability and being a self-starter," said Pelayo, who has a job offer.
The B.S.-M.S. program was launched in fall 2014, following approvals by the university and California State University system to offer a master's degree in computer engineering. The bachelor's program in computer engineering already existed, which allowed the university to offer the integrated degree program. Students start the program as freshmen, and by the third year, enroll in graduate courses.
The program, which continues with 31 students and more due in the fall, primarily focuses on the integration of both hardware and software aspects of computer-based systems, prepares students for leadership roles and careers in industry, government and educational institutions, said Kiran George, professor of computer engineering who directs the program and makes the rounds to regional high schools to recruit scholars.
"The demand for such programs has grown exponentially, due to the inherent attractiveness of accelerated degree programs," George said. "The combined degree program provides an alternative that saves time, money and resources."
Computer engineering graduates typically earn the highest starting salaries in engineering and over the past decade, there has been a rapid increase in demand for computer engineers in various fields, especially in such areas relating to mobile devices and the "internet of things," noted George.
"This trend only continues to grow," he continued. "Employment projections by the state of California, Orange County and Los Angeles County strongly emphasize the high demand of graduates with computer hardware or computer system software skills in the local geographical area served by CSUF."
The other students in the first graduating class are:
Jonathan Dilig
Elijah Grubbs 
Christopher Oelkers  
Peter Petros
Adam Zaheer