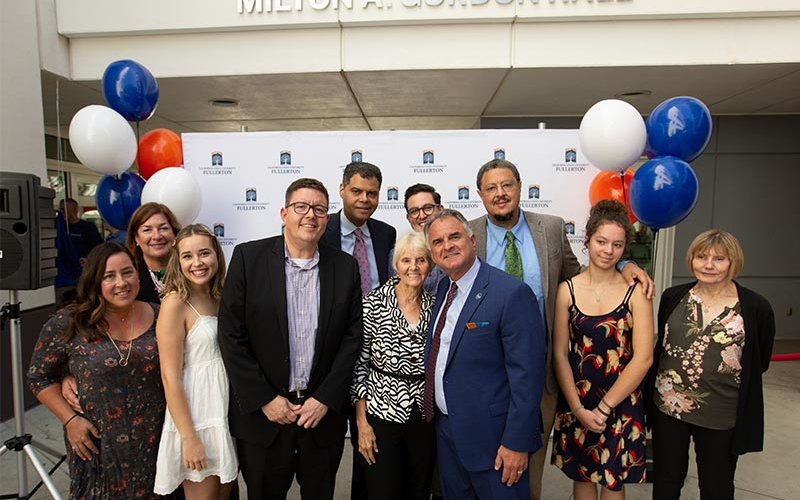 "Dr. Milton A. Gordon was a man of towering achievement and modest demeanor … one well worthy of our praise. I am forever inspired by his legacy and, as a member of the CSU Board of Trustees, both pleased and proud to have approved the renaming of University Hall to Milton A. Gordon Hall" — Sy Abrego, CSU Board of Trustees
On Friday, Sept. 20, hundreds of faculty, staff and students gathered not only for a dedication ceremony of a building but also to honor one of the giants of Cal State Fullerton: President Milton A. Gordon, the university's longest serving president. 
During Gordon's 21-year tenure, the university grew from serving 25,600 students to more than 36,000, became one of the most diverse campuses in the 23-campus CSU, and a destination campus for community college transfers. The late president oversaw construction and building projects that added 22 buildings and more than four million square feet of interior space.
Debra Farar, representing the CSU Board of Trustees welcomed the crowd.
"I am happy and honored to be here to honor the legacy of a remarkable man, Milt Gordon," she said. "Milton A. Gordon certainly shared the action and passion of his time – he demonstrated action and passion every day of his life – and everyone will be reminded of that and his remarkable legacy whenever we see or visit the Milton A. Gordon Hall."
She was followed by Sy Abrego, a CSU Board of Trustees member who also served as vice president for student affairs under President Gordon.
"Dr. Gordon was always a champion for students, especially low-income and first-generation students. His legacy of providing of providing a pathway for student achievement will be sustained by the programs that are housed here and by the students who enter this building every day.
"He was of that generation of Americans judged and marginalized by the color of their skin," he continued. "He used to tell the story of his mother packing a lunch for his trip on a segregated train back and forth to college in Louisiana. People like Milt weren't allowed to buy food on the train. He traveled a difficult road to earn his education. 
"These experiences instilled in him a deep commitment to ensure that all persons, regardless of race, ethnicity, circumstance, status or background, have access to higher education."
Among the many programs that Gordon felt a close connection to were the President's Scholars, a merit-based program, and the Guardian Scholars, a first-of-its-kind program in the nation for serving foster youth.
"Dr. Gordon invested so much of his heart into 'his' President's Scholars," said Sarah Jay, a Class of 2005 President's Scholar. "Of our 450 alumni, 334 of us knew him as our president. He would often show up at our monthly meetings or stop in at the scholar center to see how our studies were going. He'd learn our names and encourage us to interact with him whenever we saw him on campus."
Using the model of the President's Scholars, he helped create the Guardian Scholars Program, a program dedicated to helping foster youth graduate from college.
"This is particularly close to my heart as I am a certified foster parent," Jay continued. "I know that only four percent of foster youth in our nation graduate from college. That's what makes these kinds of programs so important.
"Dr. Gordon's impact is both expansive and deeply personal for so many alumni."
Herb Carter, former chair and vice chair of the CSU Board of Trustees served as Gordon's friend and mentor.He spoke of lunches the two shared where Gordon would describe his aspirations for students and the university.
"He was this tall, lanky, smooth-moving guy," Carter said to chuckles from the audience. "I remember how passionate he was about teaching and learning. He was giving and funny. Loving and intelligent. He cared about people and fervently believed that education was the passport to good citizenship."
Concluding the ceremony, CSUF President Fram Virjee welcomed those in attendance to "the house that Milt built."
"When we say that, we're not just referring to what is now Gordon Hall," he explained. "We are referring to the entire university. Of those who dedicated their lives and careers to our mission, none had more heart and commitment, none had more visionary leadership and none have had more eternal impact than President Milton Gordon."
Virjee noted that Gordon did not achieve these accomplishments by himself.
"I am speaking, of course, of Margaret Faulwell Gordon," he said. "A lifelong educator and Titan leader in her own right and Milt's wife of 30 years, she served as dean of the College of Extended and International Education and a professor of anthropology at Cal State Dominguez for nearly a quarter century. 
"She is far more than a person who advised, guided and supported one of our greatest presidents. She is a Titan who has always given of her time and talent, and continues to reach higher. We are so grateful to her for her gift to the campus and the continued impact that the President Milton A. Gordon and Dr. Margaret F. Gordon Endowed Scholarship has and will have on our students."
Reflections From Margaret Faulwell Gordon
"I think Milt would be very proud of the campus," said Margaret Faulwell Gordon, Gordon's wife for more than three decades. "There have been a number of changes over the years since he retired, but many of these changes are in keeping with the values he thought were important. Much of what you still see today is part of his legacy.
"Milt was focused on making sure students had opportunities," she continued. "While growing up, he experienced discrimination but always believed education was a pathway into the American mainstream for those who otherwise would not have the opportunity. He fought hard for inclusion on every campus where he worked. He was the first in his family to earn a college degree … and he was the youngest of five!
"This campus brought him so much joy," she concluded. "He loved watching the students, being with the students. It was important for him to attend all the commencement ceremonies and as many student events as he could. Nothing made him happier than to see students graduate and go on to successful lives … and to know that he helped play a role in their achievements."