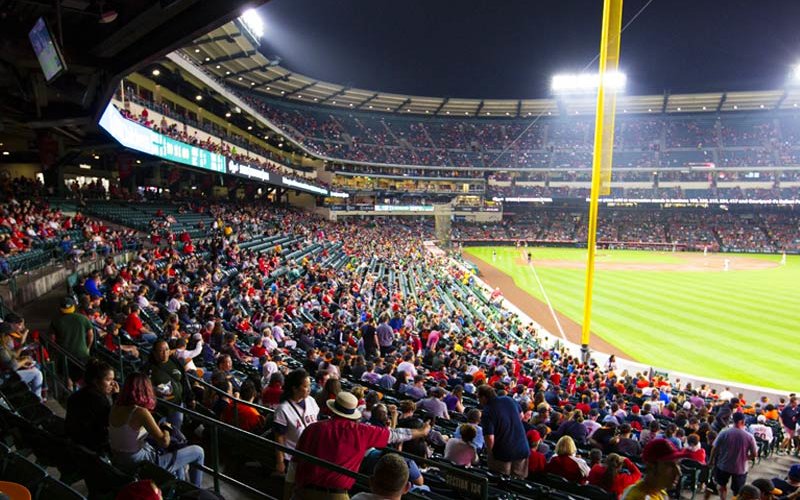 When Saul Contreras was 9 years old, the Anaheim Angels (now the Los Angeles Angels) won the 2002 World Series — an event that led the lifelong resident of Anaheim to not only become an avid baseball spectator but to take an interest in sport history.
"As a local, I would often pass by the baseball stadium and the big 'A'," he explained. "From there, my curiosity on how Angel Stadium got there was something I wanted to explore."
Chasing that interest, Contreras chose to study kinesiology at Cal State Fullerton, completing his bachelor's degree in 2016 and master's degree in 2020. One of his research projects, naturally, was an early history of Anaheim Stadium.
The alumnus' research helps put into context current events, namely the city of Anaheim selling the stadium and surrounding land to team owner Arte Moreno in December 2019. Additionally, last month, Moreno and his investors unveiled plans for a 153-acre mixed-use project centered on the stadium, which would feature the development of dining, entertainment, retail, office and apartments over the next 30 years.
Toby Rider, associate professor of kinesiology and Contreras' faculty mentor, explains the significance of the research.
"Saul has produced a detailed historical study of why Anaheim Stadium was built and how the Angels came to play in it. In particular, he explains how the stadium and the naming of the Angels team were closely tied to local politics, identity and boosterism," said Rider.
"In doing so, Saul's work helps us to further understand the complicated role of teams and stadiums in modern society, and how they contribute to making and shaping communities."
Drawing on archival documents from the Anaheim Heritage Center, Anaheim Public Library and city of Anaheim, Contreras points to key details in the history of the stadium.
"Anaheim Stadium was built in 1966, making it the fourth oldest baseball stadium in use only behind Fenway Park, Wrigley Field and Dodger Stadium. What surprised me was not just how old Anaheim Stadium was, but the lack of attention it has received compared to the three mentioned which are household names in the baseball community," he said.
"A second interesting aspect of Anaheim Stadium was that before the Angels moved from Los Angeles to Anaheim, it was the city of Long Beach that competed with Anaheim for the Angels.
"The last bit of historical inquiry that I learned was Walt Disney's role, as a member of the Angels' Advisory Board, in influencing the team's move from Los Angeles to Anaheim. Disney has always been associated with Anaheim because of Disneyland, but as a local, I never connected him to the Angels let alone the construction of Anaheim Stadium."
The 2020 Major League Baseball season is slated to begin July 23, but stadiums like Anaheim's will not initially be open to fans due to the COVID-19 pandemic — sad news for a sport historian and spectator like Contreras.
"It is easier to study the past than to predict the future, but I believe the stadium will be empty for some time," he said.
When the stadium does reopen, Contreras — whose long-term goal is to teach at a community college and continue researching sport history — will be glad to return.
Contact: Lynn Juliano, ljuliano@fullerton.edu