The 2019 Convocation ceremonies got off to a rousing start as CSUF President Fram Virjee, his wife, Julie; student Imani Garner, alumna Asia Scott '19, and the Titan Spirit Squad danced their way to the front of the gymnasium. The jumbotron featured multiple images of Cal State Fullerton faculty and staff dancing to the music of Beyonce.
"Not only do Titans reach higher, we dance better, rock harder and, from the looks of this convocation crowd, we just plain have more fun!"
Referencing his rap video from last year's convocation, the president acknowledged that he was "carried away" by the Titan family … but there was one particular individual who inspired it — Imani Garner.
"Imani's journey is a roadmap to becoming a Titan," he said. "I met Imani over a bowl of her very own piping hot, home-cooked mac 'n' cheese. I didn't see much of her after that until I stumbled upon her and a friend shooting a music video in front of the new Titan gate. On the weekend of their commencement. In their grad caps and Titan gear no less.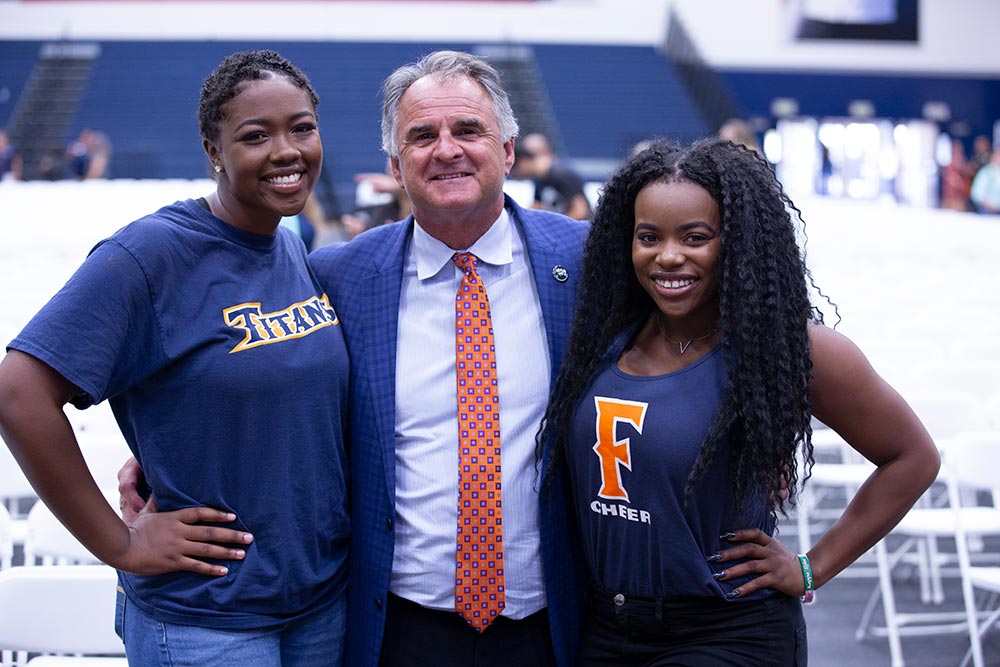 "Imani has spent her time at Cal State Fullerton doing what she, and what I hope all Titans do: Jump in. Saying 'yes' to experiences that present themselves at every turn. Focusing not only on the journey, but how they can support and inspire others.
"When Imani arrived on campus, she wondered if she could succeed as the first in her family to graduate from college. Was there a place for her here? How would she navigate the financial struggles?"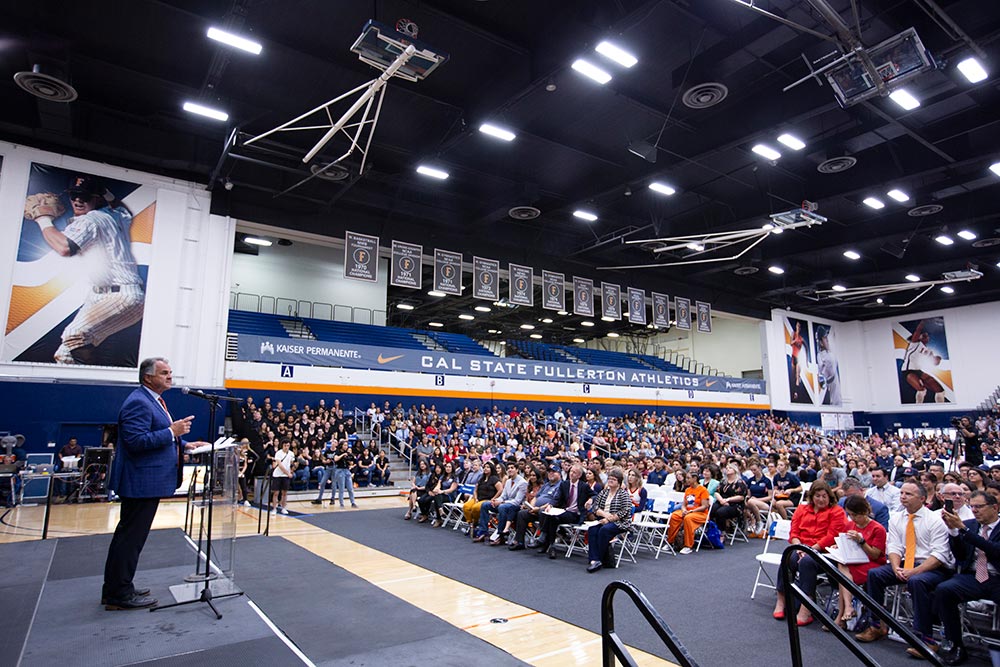 Imani immersed herself in opportunities, Virjee explained, attending a Black Student Union event, which led to a leadership role in the African American Resource Center. She became an orientation leader, a Titan Ambassador and joined the executive board of SisterTalk, a CSUF discussion group for women of color. She applied for and was accepted into a study abroad program in Florence, Italy. But she needed money.
"That's where the mac 'n' cheese comes in," Virjee said. She sold $2,000 worth of it. And she went to Italy. Last spring, she became one of the thousands of graduates in the Titan Class of 2019 to be the first in their families to earn a college degree. Today, she is pursuing a master's degree in educational administration."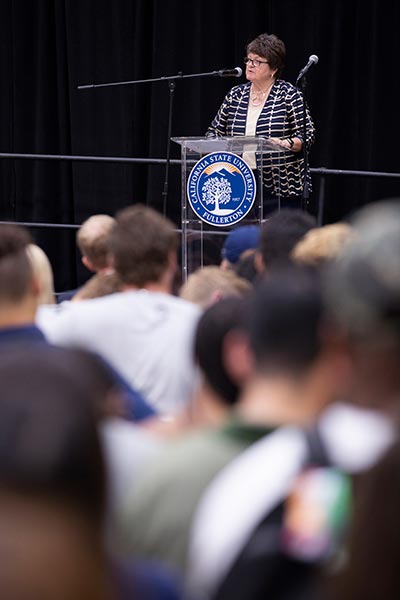 "Say yes to all the incredible experiences this campus has to offer," said Pam Oliver, provost and vice president for academic affairs. "Every day is a chance to learn something new, inside and outside the classroom."
"I want you to take a moment to consider and dream about what being a Titan could mean for you," said 2019 Outstanding Professor Award recipient Matt Englar-Carlson. "What you do when you are here is often more important over time than the outcome: grades, success, and diploma.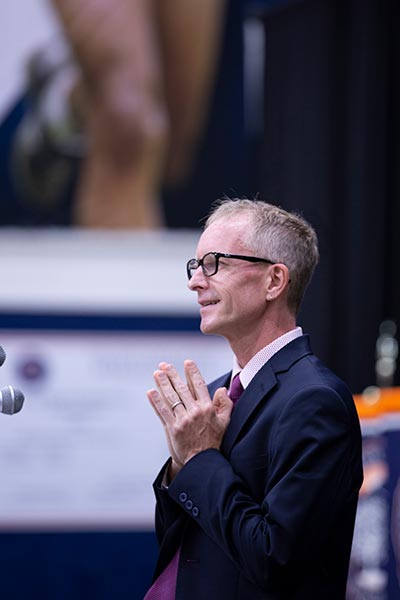 "What does being a Titan mean to me? It means understanding that CSUF is about contributing to social welfare, connecting and building community, and cooperation. And that is what our world desperately needs."
"You will find family here at Fullerton," said ASI President Aaron Aguilar. "You can develop into everything you have ever dreamed of and more. Go to class and turn to the people next to you, introduce yourself, and find future friends. Go to that concert or theatrical performance next week and make a new, treasured memory. But most importantly, you can realize that this day is the beginning of everything you are meant to be. You only have to reach a little bit higher.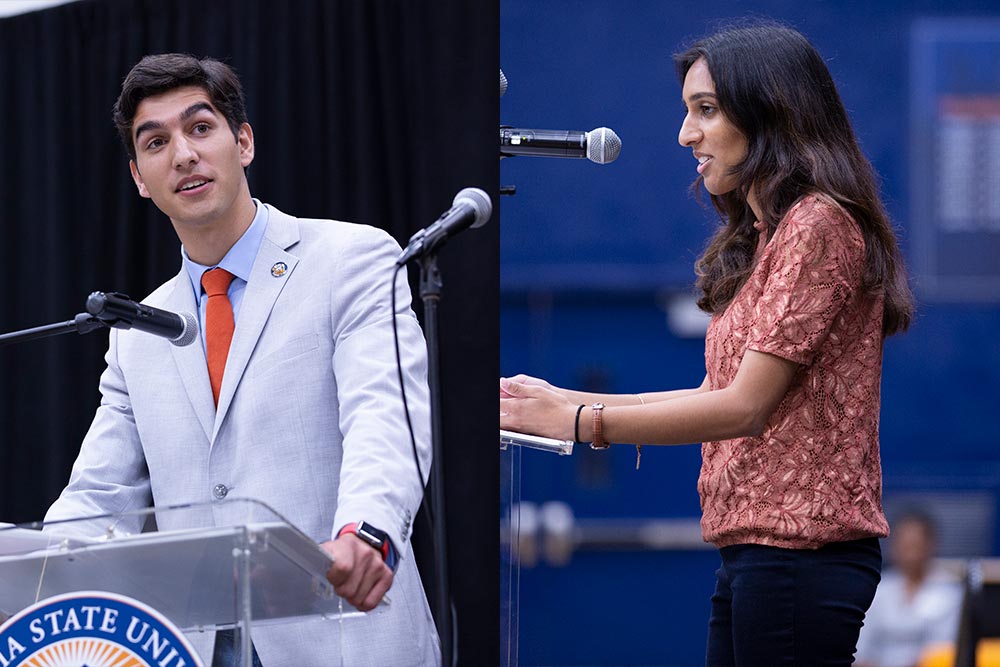 "The day I became a Titan wasn't my first day at school," said Mansi Kalra, ASI vice president. "The day I became a Titan was the day that I reached for something that I thought was too far out of my reach … and succeeded. It was the day that I decided not to let my fear or insecurities influence my decisions. As you begin your own journeys, think about the legacy you will leave on campus. What impact do you want to leave, and how will you go about achieving that? Remember, there is no such thing as reaching too high, and if anyone tells you that, succeed on your own terms."
Virjee closed the ceremony by introducing a new alma mater, written by music professor Christopher Peterson and performed by the CSUF Symphonic Chorus.
Listen:
"It is a song that, from this day forward, will be a part of who we are as Titans and what we aim to become," he said.
In closing, Virjee introduced Harry Le Grande, the new vice president of student affairs.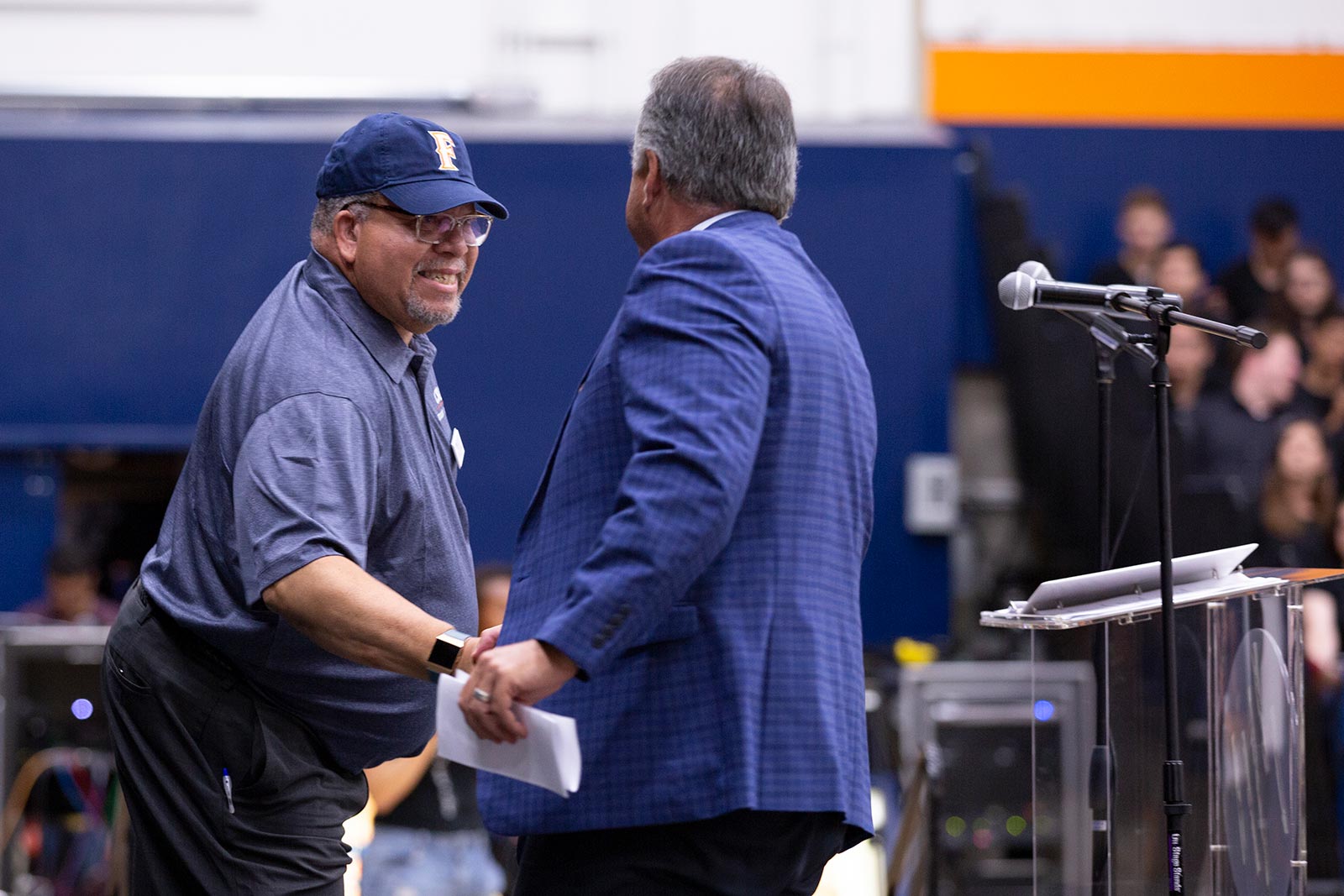 "I'm excited to join other new faculty, staff and students on 'This Day We Become Titans,'" Le Grande said. "I'm committed to collaborating with my colleagues to create experiences that help our Titans 'Reach Higher,' both inside and outside the classroom."