CSUF News Service
Physics Scholars Ride the Gravitational Wave Discovery
Feb. 11, 2016
As the first gravitational waves are observed, Cal State Fullerton students and alumni share the discovery of one of the most remarkable astronomical events in their lifetime.
Laser Interferometer Gravitational-wave Observatory (LIGO) research is conducted by the LIGO Scientific Collaboration (LSC), a group of more than 1,000 scientists from universities throughout the United States — including CSUF — and in 14 other countries.
More than 90 universities and research institutes in the LIGO Scientific Collaboration develop detector technology and analyze data. Of these researchers, approximately 250 students are contributing members of the collaboration.
Since 2010, more than 40 CSUF undergraduate and graduate students have been involved in research efforts related to the discovery, as part of CSUF's Gravitational-Wave Physics and Astronomy Center (GWPAC). Of these young researchers, about 20 students have been part of the LIGO Scientific Collaboration, and of these, six graduates are co-authors of the discovery article published today in Physical Review Letters.
READ: The journal article "Observation of Gravitational Waves from a Binary Black Hole Merger" »
Alumni co-authors are:
Thomas Abbott '10 '12 (B.S., M.S. physics) in the physics doctoral program at Louisiana State University
Joshua Hacker '15 (M.S. physics)
Gabriel Islas '14 (M.S. physics) working in optics industry
Fabian Magaña-Sandoval '12 (B.S. physics) in the physics doctoral program at Syracuse University
Gabriela Serna '15 (M.S. physics) in a doctoral program at Syracuse University for future science professors
Daniel Vander-Hyde '15 (B.S. physics) in the physics doctoral program at Syracuse University
Working alongside GWPAC faculty mentors Joshua Smith, Jocelyn Read, Geoffrey Lovelace and Alfonso Agnew, students have had the opportunity to work on this groundbreaking research, enhance their scientific and computing skills, present at national conferences and co-author peer-reviewed journal articles.
"Observing as many of these waves as possible and learning as much as possible about their sources require a generation of students with extensive knowledge of science, and with laboratory and computational skills," said Smith, GWPAC director. "At CSUF, not only is faculty-student research contributing to the global gravitational-wave research effort, we're also training the next generation of scientists."
Alumni Researchers
Thomas Abbott (B.S. physics '10, M.S. physics '12)
Louisiana State University doctoral student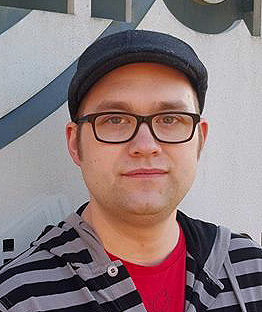 LIGO has complex systems that block noises from the environment, yet some noises still affect the detector's signal, hindering scientists' ability to make confident detections, Abbott said.
While at CSUF, Abbott helped develop an algorithm that compares events that resemble gravitational waves with hundreds of environmental sensors around the LIGO detectors, allowing scientists to statistically rule out some of those noises.
As a doctoral student, Abbott is continuing this work with students and LIGO scientists to block environmental noises to improve wave detection.
"Gravitational-wave detectors are more than just a fun experiment; they're an investment in the future. The direct detection of gravitational waves won't change your everyday lives; the LIGO lab probably won't invent the flying car," said Abbott, who hails from Chino.
"But the process of designing and creating a device as sensitive as the LIGO interferometer has pushed the boundaries of instrumental technology, and will continue to push them as scientists and engineers work to extend its sensitivity even further."
Matthew Giesler (B.S. physics '13)
Caltech doctoral student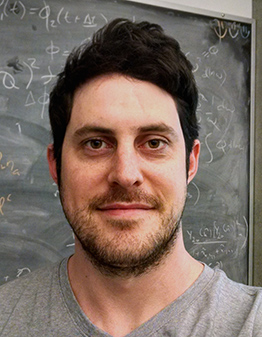 At CSUF, Giesler was introduced to the field of numerical relativity, in which researchers use supercomputers to numerically solve the equations that govern gravity. These equations come from Einstein's theory of general relativity, which predicted gravitational waves 100 years ago.
"The research I did while at CSUF gave me the needed experience to get into a graduate program, where I could continue studying astrophysics and working in numerical relativity," said Giesler, who is from Palm Springs.
His current research focuses on using numerical relativity to predict what the gravitational wave signal looks like.
"Gravitational waves will provide us with a new way to look at our universe — and being able to detect these waves will be a revolution in physics. These waves are generated by sources we still have a lot to learn about — supernovae, black holes and neutron stars, to name a few. Fortunately the waves carry information, which we can use to study these known, and possibly unknown, sources."
Fabian Magaña-Sandoval (B.S. physics '12)
Syracuse University doctoral student
As a CSUF undergraduate, Magaña-Sandoval learned about optical and laser technology to improve the performance of the gravitational-wave detectors.
At Syracuse, he is conducting research that will increase the effectiveness of noise-reduction technologies to improve gravitational-wave detection.
Magaña-Sandoval, who grew up in Santa Ana, is awed by the possibilities gravitational-wave research holds for the future, and also credits his undergraduate experience and his faculty mentors who helped him "build the bridges" to pursue a doctorate in physics.
"The awesome thing about gravitational-wave research is that it aims to observe black holes smashing into each other at near light speeds. In the process of learning about how gravitational-wave detectors work, I get to learn about cutting-edge laser technology, modern optics, electronics and astronomy. The skills I pick up during my time studying gravitational-wave detectors are sure to transfer over into my future career," he said.
"The main reason why we do this kind of research is because studying black holes is fascinating. Gravitational-wave research will help develop a whole new way to observe our universe."
Undergraduate Researchers
Nicholas Demos
CSUF physics major
Demos is amazed by the idea of crashing black holes and neutron stars to produce an eruption of gravitational waves — triggering their detection.
As one of the CSUF students currently studying gravitational waves, he is involved in developing simulations of such violent astronomical events by using a supercomputer built by GWPAC researchers.
"These simulations help researchers to identify gravitational waves in their data, but they also allow us to make scientifically accurate visual representations of the most extreme events in the universe," explained Demos of Anaheim.
Without much experience in computer programming or physics, Demos began conducting gravitational wave research just 18 months ago after taking an introductory physics course. Since then, Demos has gained computer and numerical skills and today is among student contributors to the LIGO global research effort.
"CSUF has provided me with a unique opportunity to study gravitational waves," he said. "Largely because of my work at the GWPAC, after I graduate next year, I've decided to apply for doctoral programs to continue my physics education in this new field of astronomy."
Alyssa Garcia
CSUF physics major
Garcia is fascinated with astrophysics — the science of applying physics beyond the atmosphere of earth — and its role in gravitational-wave astronomy. She plans to pursue a doctorate in astrophysics after earning her bachelor's degree next year.
"From my perspective, gravitational-wave research is important because it will help us learn more about our universe. What I find fascinating about this field is that there is still so much to learn and discover," said the Brea resident.
The research she conducts involves analyzing gravitational-wave data from computer simulations and studying the black hole's horizon.
"The Gravitational-Wave Physics and Astronomy Center is helping me achieve my academic and career goals by giving me the chance to experience what it is like to do research and work in a big scientific collaboration. I also have the chance to work and learn from physicists from CSUF and other universities."
Haroon Khan
CSUF electrical engineering major and physics minor
Khan has a keen interest in physics and is inspired about the potential benefits of gravitational-wave research.
"It's a new and exciting field that not many people know about. It has the potential to revolutionize physics. Gravitational waves will open a new window into the universe. We will be able to see and discover things that no humans have ever seen before," said Khan.
His physics research involves using supercomputer simulations to see what happens when two black holes collide. He also creates visualizations from the simulated data to see what the black holes would actually look like.
The Orange resident is on track to graduate next year and plans to pursue a career in the space exploration industry: "My goal is to work at NASA one day."
---