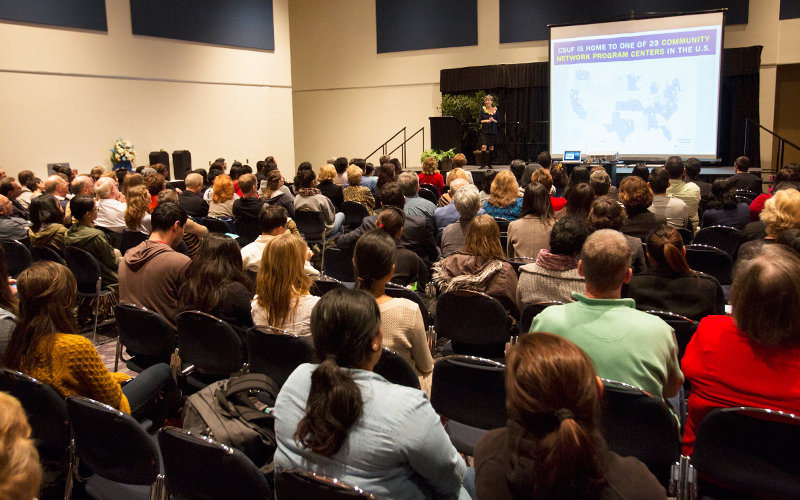 What:                   
Stress and diet, European artists, politics and the Magna Carta are among the topics of discussion for two free, public lecture series being offered by Cal State Fullerton's Osher Lifelong Learning Institute (OLLI).   
The campus support group also will hold a Saturday, Jan. 16, spring preview meeting, providing information about the group, its various programs and classes. The preview meeting will be held 10 to 11:30 a.m. in the University's Mackey Auditorium.
When:                   
Jan. 21-April 12
Where:                  
Cal State Fullerton, Ruby Gerontology Center's Mackey Auditorium
800 N. State College Blvd., Fullerton, 92831
Schedule:
BEST OF ECLECTICS SERIES I
10-11:30 a.m. Tuesdays
Jan. 26 — "Romeo and Juliet Across Media" with Julia Lupton, associate dean for research at UCI's School of Humanities
Feb. 9  — "Stress, Diet and Exercise: The Obesity Trifecta and Its Impact on Anxiety" by Jennifer Trevitt, CSUF associate professor of psychology
Feb. 23 — "Documentary, Daniel Friederich" by Jeff Cogan, associate professor of music and director of guitar studies and music technology at Chapman University
March 8 —"Curating and the Art of Southern California" presented by Mike McGee, CSUF associate professor of art and director of the Begovich Gallery
March 22 — "Finding Your Place in the World Through Writing" with Kate Maruyama, author of "Harrowgate"
April 12 — "The Sands of Time: Using Marine Sediments to Understand Changes in the Ocean, on Land and Climate From Days to Decades to Millennia" by Joe Carlin, CSUF assistant professor of geological sciences
BEST OF ECLECTICS SERIES II
12:30 – 2 p.m. Thursdays
Jan. 21 — "Five European Masters: Monet, Matisse, Cezanne, Rembrandt and Hals" with artist William J. Havlicek
Feb. 4 — "Field Cancerization — Thinking Outside the 'Tumor'" by Marco Bisoffi, associate professor of biochemistry at Chapman University
Feb. 18 — "Television and its Relationship to U.S. Politics and Social Movements" by Allison Pearlman, assistant professor of film and media studies at UC Irvine
March 3 — "The Science of Sexual Orientation" with Richard Lippa, CSUF professor emeritus of psychology
March 17 — "Journalism and Academics" presented by Anthony Fellow, CSUF professor of communications
April 7 — "What's so Great About the 'Great Charter'? The 801st Anniversary of the Magna Carta" with Jochen Burgtorf, CSUF professor of history
PARKING:          
$8 for a daily permit Monday through Friday. Details available online.
BACKGROUND:  
OLLI is a self-supporting University affiliate group of more than 1,700 retired and semiretired individuals dedicated the pursuit of lifelong learning. For more information about the organization, these and other OLLI programs, visit the OLLI website.
MEDIA CONTACTS:     
OLLI, 657-278-2446
Pamela McLaren, 657-278-4852