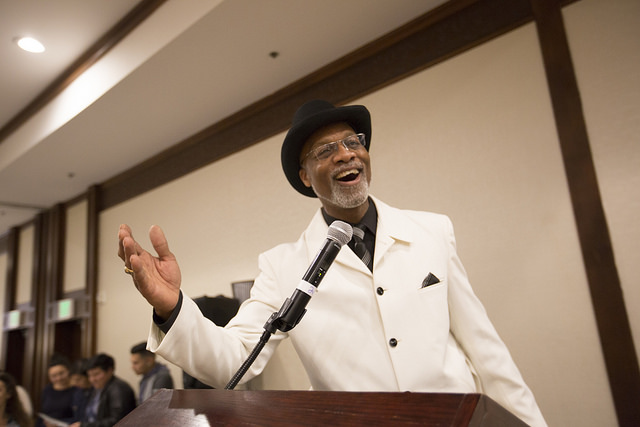 Two members of the California State University Board of Trustees, Debra Farar and Lillian Kimbell, were among the more than 100 attendees at the Feb. 18 Black History Month reception hosted by Cal State Fullerton President Mildred García.
"Not only are we celebrating the success, but also the perseverance … [in the face of] injurious language against African Americans and people of color — and how we are standing strong against these statements," said García. "I think Cal State Fullerton is a model in doing that.
"This is Cal State Fullerton, where we embrace all cultures, respect them, embrace them and teach them."
The president congratulated the University's African American Resource Center, which this year is celebrating 10th anniversary, and applauded Associated Students Inc. and the Black Student Union for sending 20 delegates to the Afrikan Black Coalition, as well as the AfricanAmerican Faculty and Staff Association's "Fall in Love With Fullerton" campaign for prospective African American students.
Addressing the black community on campus, García declared: "You've helped me to be the kind of president you deserve, and I thank you for giving me that honor."
After a rousing performance of "A Change Is Gonna Come" by student Brandon Harris '15 (B.A. music-music education), who is pursuing his teaching credential, Tyler Parry, assistant professor of African American studies, declared ethnic studies-African American studies senior Clayton Finn the winner of this year's African American Faculty and Staff Association Black History Month Scholarship Award for writing that "encapsulated all the themes for the Black Lives Matter movement."
The keynote speaker was A'Lelia Bundles, journalist and author of "On Her Own Ground: The Life and Times of Madam C.J. Walker," about her great-great-grandmother — an entrepreneur, hair-care pioneer and the country's first self-made American female millionaire.
"Madam Walker, just six years after she started to sell her products, had a national and international business with customers all over the U.S., the Caribbean and Central America," explained Bundles. Walker, she added, "made women more confident and helped them become more independent."
More presentations, lectures and events commemorating Black History Month will continue through Feb. 28; for information, contact the African American Resource Center at 657-278-3230. View more photos of this event on Flickr.