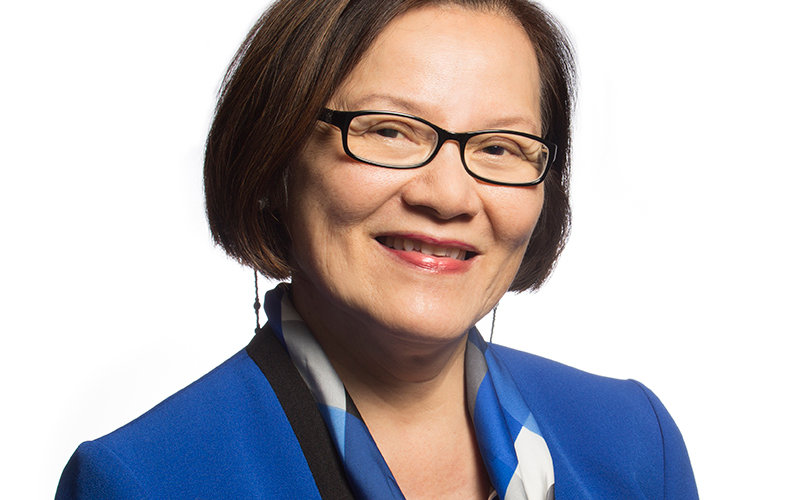 Cal State Fullerton's Nursing Department welcomed back one of its alumni, Rosario Sakamoto, this fall — as one of its faculty members. Sakamoto began her nursing career by earning her bachelor of science in nursing at CSUF, followed by a master of science in nursing from Cal State Long Beach and a doctor of public health/preventive care from Loma Linda University.
She has served as a school nurse, registered nurse, nurse practitioner, charge nurse in a critical care-intensive care unit, clinic supervisor and an educator both locally and internationally.
Why did you pursue the opportunity to join the Titan community?
CSUF has the philosophy and culture of serving a diverse community with quality and affordable education. The administration, faculty and staff create and truly make it possible for students to succeed. This learning environment is where I belong, as this fits my professional as well as personal values. Coming from a multiethnic background, I enjoy and thrive when interacting with various populations.
In addition, CSUF is where I got my bachelor degree in nursing, so it is like coming home — and it is time to give back.
What do you most look forward to now that you're here?
I look forward to advancing my teaching skills where I can effectively impart my experience from more than three decades of nursing practice, and to having students connect with me as they progress during my classes and throughout their careers. To be able to work closely with various experts in campus, not only within our School of Nursing and College of Human Health and Development, but also with International Programs and Global Engagement. In addition, as CSUF faculty, this opens opportunities to be engaged in neighborhood community organizations on varied health issues.
What areas of continued scholarship and research are of particular interest to you?
Being an adult/geriatric nurse practitioner with a doctorate in public health specialized in preventive care and lifestyle, I am excited to continue my passion in caring for older adults. My research on the prevention of cardiovascular diseases through nutrition and physical activity are areas in which I am mostly interested. I can disseminate my knowledge and skills by continuing my research on vitamin D and hypertension and bone health. I also am interested in the prevention of depression and Alzheimer's disease. I look forward to collaborating with our gerontology center and Center for Successful Aging.
What are some of your outside activities, hobbies, or interests?
Traveling, as I have visited 18 countries and lived in five. I love gardening — I recently became a member of the Fullerton Arboretum — as well as reading novels and nature walks with our dog. In winter time, I volunteer to give direct patient care to the homeless.  I also enjoy being active in my church activities.