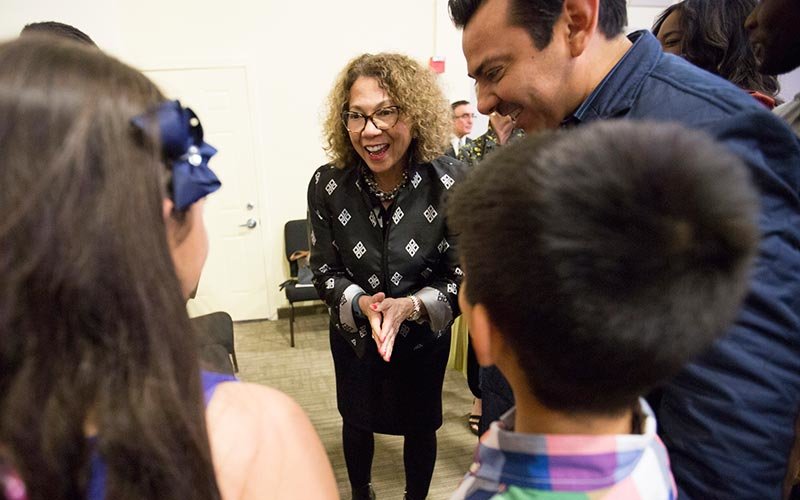 Cal State Fullerton President Mildred García stood before the congregants at Christ Our Redeemer A.M.E. Church in Irvine on Sunday and announced "The message I bring with me this morning is simple: College is for you!"
García was taking part in the California State University Super Sunday effort, in which leaders from all 23 of the university system spoke to congregations at churches across the state, stressing the possibilities and opportunities for college. The goal is to improve educational outcomes for historically underserved populations.
"It is never too early to prepare and never too late to return," she said. "Whatever your circumstances or age, know these three things: you can attend college; you can afford college; and you can succeed in college."
García stressed that the California State University has tools to help future students prepare and a financial aid program to help pay for college. Further, she added, "we have a community of faculty, staff and students ready to empower your success.
"Know that the CSU community does not end at the boundaries of our campuses. We are all part of the same community … a community that stands together and thrives together so that every African-American child has the opportunity to a higher education."
Wilbur Tate, an Educational Opportunity Program counselor, spoke at two services of Corona Community Church Sunday. Other CSUF speakers who will take part in church services this Sunday are:
Rodney Anderson '05, '08 (B.S. human services, M.S. counseling-marriage and family therapy), EOP counselor and coordinator of the Male Success Initiative 
8 a.m. — City of Refuge, 14527 S. San Pedro St., Gardena, CA 90248
Kelsey Brewer, CSUF senior political science major and CSU student trustee
8 and 11:30 a.m.  — Life Church of God in Christ, 3349 Rubidoux Blvd., Riverside  
Vita Jones, associate professor of special education                  
11 a.m. — Walker Temple AME Church, 2525 Trinity St., Los Angeles
Berenecea Johnson Eanes, vice president for student affairs
8 and 11 a.m. — Second Baptist Church, 4300 Westminster Ave., Santa Ana
Peter Nwosu, associate vice president for academic programs
9:30 a.m. — Grant AME Church, 10435 South Central Ave., Los Angeles  
Jackie Otis, student academic services budget operations analyst
8 a.m. — Bethel AME Church, 7900 S. Western Ave., Los Angeles