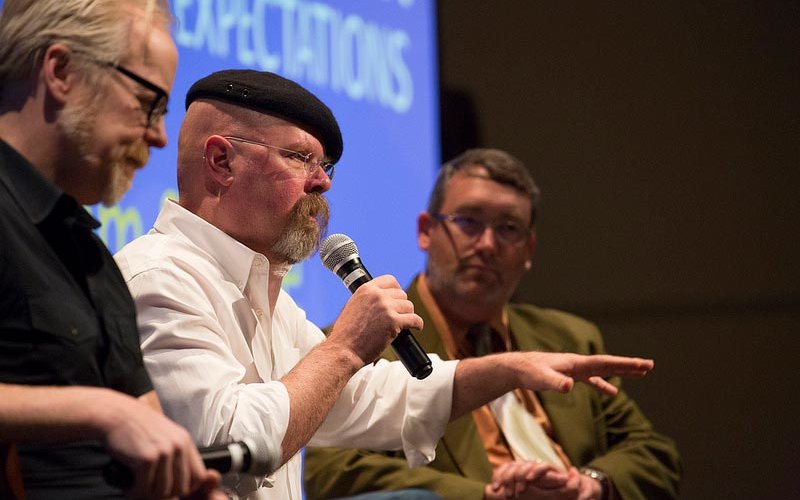 Audience members exploded in applause and laughter, and later gave a standing ovation, as the myth-busting duo of Jamie Hyneman and Adam Savage delivered the keynote address Thursday night at Cal State Fullerton's Natural Sciences and Mathematics' "Realizing Reality: Shattering Expectations" symposium.
The pair has inspired the younger generation to inquire, interact and get involved with science by blowing up stuff with dramatic explosions and crashes as hosts of Discovery Channel's science entertainment series, "Mythbusters." The pair's talk before a packed house of students, faculty and staff members, as well as community members was no different.
"Science is just another genre of storytelling," Savage told the crowd inside the Titan Student Union Portola Pavilion, "just with more rigor."
Hyneman and Savage, who just wrapped up their 14-year run as hosts of the show, recounted the years of myth-testing successes and failures during their keynote, moderated by David D. Bowman, interim dean of the College of Natural Sciences and Mathematics. Audience members had the opportunity to ask questions — from how the hosts got their ideas to advice for college students.
Over the show's nearly 300 episodes, where the hosts used a signature brand of explosive experimentation to prove or disprove popular myths, misconceptions and legends, there were also plenty of failures.
Both hosts reminded students not to be afraid of failure: "We love to embrace failure; when it happens, that's the best possible thing because it means you learn something," Hyneman said.
The symposium, which continues today, is presented by the NSM-ICC student organization, with support from the College of Natural Sciences and Mathematics, Cox Communications and LINN Energy.