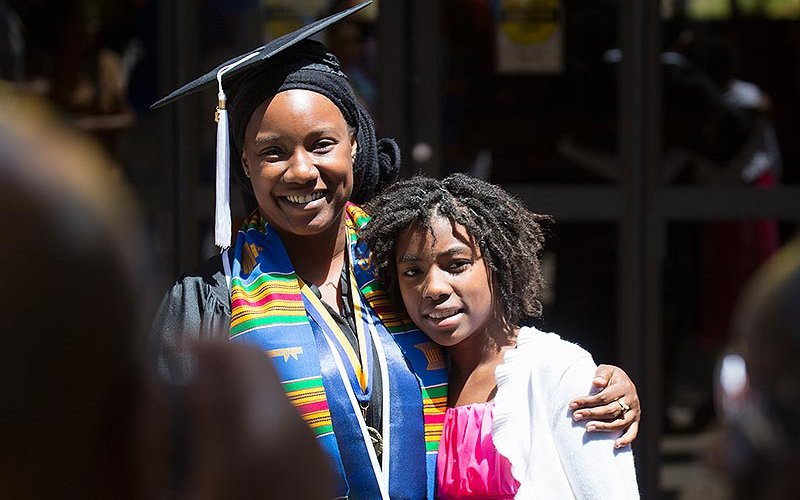 Cal State Fullerton is 10th on a list of "top-gaining" four-year public institutions — those that substantially improved overall graduation rates for African American students from 2003-2013 — with a 10.3 reduction in the achievement gap between white and black students, according to The Education Trust report "Rising Tide II: Do Black Students Benefit as Grad Rates Increase?"
The University saw a 3.2 percent increase in overall graduation rates and an 11.7 percent increase over the same time span in graduation rates for African American students.
"California State University, Fullerton's commitment to address the historical and social legacies of inequity that have impacted African American and other underrepresented groups is transforming the lives of our students and their communities," said Mildred García, president of Cal State Fullerton. "It is not an achievement gap, it is an opportunity gap, and our efforts to ensure equitable access to higher education is fast becoming a national model — one that extends the path to upward mobility for an ever-changing nation of diverse citizens."
In its report, The Education Trust found that completion rates for African American students increased at almost 70 percent of the 232 public, four-year institutions that improved overall graduation rates from 2003-2013. But at more than half of those institutions — 53 percent — the gains among black students were not as large as those among white students, widening gaps between groups.
Fifty-two institutions, including Cal State Fullerton, stood out for substantially improving overall graduation rates while also achieving gains for African American students.
This is the second of two research papers looking at the graduation rates of traditionally underserved minority students. The first report — "Rising Tide: Do College Grad Rate Gains Benefit All Students?" — was released in December 2015 and examined the graduation rates of Latino, Native, African American and white students.