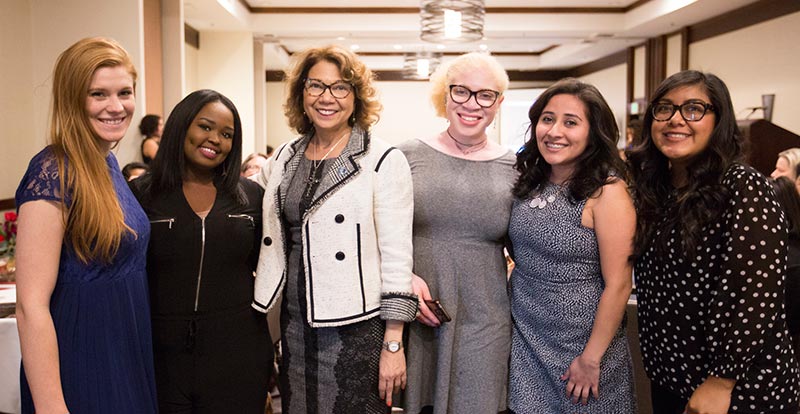 A packed audience of men and women of all ages were on hand to hear from strong women sharing their vision through words and song at the March 23 Women's History Month Reception sponsored by President Mildred García.
García told people that it was her mother who gave her the inspiration that helped her become the person she is. After the death of her father when she was 12, "my mom raised our family on a factory salary. We never felt poor."
What her parents stressed to her was the one thing they could give all the children — a chance at an education. "And today, I stand before you as president of Cal State Fullerton."
In opening the ceremony, García stressed that while Women's History Month celebrates the achievements of women, "the dreams are not only in the best interest of women, it's best for everyone … It all begins here at CSUF."
Keynote speaker Rose Espinoza, a current Cal State Fullerton student and La Habra city councilwoman, founded Rosie's Garage in 1990. Her goal was to tutor children in the neighborhood so they could achieve success in school and go on to college. "Education changes the lives of young people," she said. "We see that over and over again.
Espinoza's program endured rough beginnings as her family was threatened for working with students — but "if I could help them, perhaps it would help phase out gangs," she said. The program succeeded and continued. As evidence of its success, she introduced two of her former students who are now in college.
"It was supposed to be a two-year commitment," she explained. "It's now been 25 years and we now have a different kind of neighborhood. Crime has been greatly reduced."
As she became more well known in her city, Espinoza was encouraged to run for city council. She was curious, she said, but hadn't a clue as to how to go about it.
"I checked on the web, asking how you go about running for city council. The website said it was relatively easy," she said to laughter. After finding out that it was a part-time position, she took out election papers — but didn't tell her husband.
"It ran like a chess game," Espinoza explained, noting that it was a challenge unlike anything she had ever faced before. "I quickly learned who were my supporters and who were not."
She didn't win, but she persisted. In her fourth attempt, she won. "All I wanted to do was serve."
As a fellow college student, Espinoza told the young people in the audience, "You are our future. I want to hear about your hardships. My journey is not done, and neither is yours."
Attendees gave rousing applause to the announcement of Destiny Caro, junior human services major, as the "Women Challenging the Politics of Respectability" scholarship winner, and to a spoken word presentation by Hannah Elliott, a junior communications major and resident adviser at Housing and Residence Life, who read "Phenomenal Woman" by Maya Angelou as well as a reading of her own composition.
Audience members also were entertained by the singing duo, Onliest, and the CSUF Women's Choir, directed by Rob Istad.