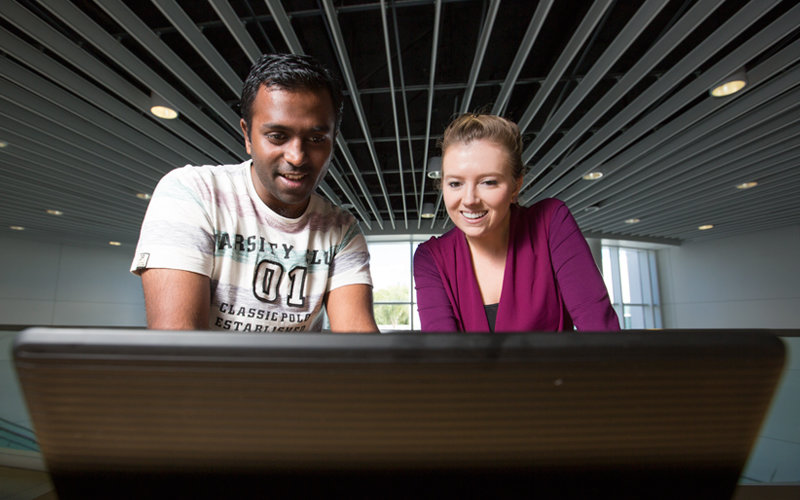 Graduate business student Abhijeet Shegokar wanted more. Not just what he could get from his textbooks, his classes, or his teachers — as good they were. He wanted to get to the 'skinny' of what employers look for in employees and how graduate students should approach getting an internship, especially one that could lead to that 'dream job.'
And Mihaylo College of Business and Economics offered more — through a new program that matches graduate students with working professionals.
"We established the program as just one more way to strengthen the 'Mihaylo experience,' to provide students — in addition to solid academics, research and networking opportunities — a one-on-one, more personal and professional experience and connection," said Zoe Sullivan, a graduate career adviser who oversees the mentor program.
The effort kicked off last fall with 14 students and 12 mentors who meet on a regular basis. The first meeting included a mini training on what mentors and mentees could expect. Students were charged with arranging for regular meetings with their mentors.
In January, another group get-together involved a resume review and a group activity.
"The students were divided into groups, then each group worked with one of the mentors to develop a pitch as many would have to do in their chosen profession," she explained. "Mentors and mentees loved it and the added benefit was that they were able to network across a broad spectrum of business fields."
Jennie Phuong '13 (B.A. business administration – accounting and information systems), an accounting specialist with the Orange County Health Care Agency working on a master's degree in information technology, was looking to meet, connect and network, as well as have a mentor who would provide insights on what to do and what to avoid while in graduate school.
"It is like having a person guide you down the right path," explained Phuong. "I have the opportunity to grow as an individual through self-discovery, thanks to my mentor's guidance and assistance."
Shegokar, an international student from India who is studying information systems and decision sciences, complimented his mentor for helping him in a number of ways, including "guiding me through my resume and cover letters, offering strategies that he applied himself. My communication skills have increased vastly thanks to the mentor program, where I have made positive connections with people from various industry backgrounds."
And the benefits are not one way.
"Getting your MBA and entering/re-entering the workforce can be a tough and stressful time. I wanted to try and lend my personal experience to hopefully make it easier for someone else," said mentor Jeremy Green, marketing sourcing and supply chain professional at the Walt Disney Company. Green says one of the surprises for him was how much he learned.
"I think one of the best forms of learning can be through someone else's experiences — both in understanding what they may have done right, but also what they could have done better," Green explained. "It's really a 'two-way street.' I think mentoring is part of being a successful leader in the workplace and I can definitely say the program has given me some specific experience in that area."
"It's a wonderful opportunity," added Shegokar. "Being an international student, it is sometimes very difficult to understand the cultural differences. Having a mentor has been a gold mine … He has helped me overcome that difference very easily and quickly."