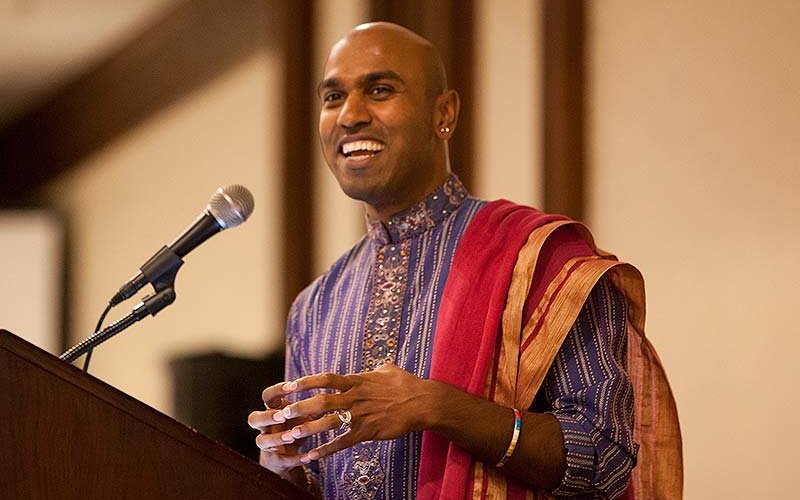 Welcome remarks by Craig Ihara, professor emeritus of philosophy, and a dance performance by the South Pacific Islander Cultural Association kicked off the April 7 Asian American & Pacific Islander Heritage Month reception at the Fullerton Marriott.
The campus diversity, said Danny Kim, CSUF vice president of administration and finance, mirrors the diversity of Orange County, home to the third largest Asian American community in the country and the largest Vietnamese American community in the world. "President García and I are proud that we're not only maintaining this momentum of diversity in the University, but also building upon it," he said.
The University is home to the National Resource Center for Asian Languages, which focuses on developing materials and resources, training teachers in promoting dual-language immersion for less commonly taught languages. Last fall, the center launched California's first Vietnamese English American program in partnership with the Westminster School District.
The campus, added Kim, also is making investments to support the API community, including a full-time coordinator for the Asian Pacific American Resource Center. This year also marks the 20th anniversary of CSUF's Asian American studies minor, for which Eliza Noh, associate professor and coordinator of the program, received recognition.
Despite all of the successes, said Kim, there remains an institutionalized cultural lens that needs to be changed. "In the case of the AAPI community, the model minority myth is a significant barrier to many Asian Americans. The Asian American population is not homogeneous and there are segments of this population that are severely disadvantaged and encounter many obstacles in terms of access to higher education and professional success," he explained.
"This is why this event and others like it are so important, to erase misconceptions and to show that Cal State Fullerton does not just have diversity — we understand why it matters."
Keynote speaker Raja G. Bhattar, director of the UCLA LGBT Campus Resource Center and a social justice trainer and educator, connected the month's theme of "Identity, Solidarity, Visibility" to their own experiences in the "swirling around" of the different aspects of one's identity — race, ethnicity, gender expression and other modes of identification — what that means to each of us and how they cannot separate one from the other.
"The identity issue is both acknowledging the basic level of how we share and don't share these circles and and experiences, and how we coexist," Bhattar explained.
"Just because we may identify as Asian American doesn't mean we all see the world in the same way … we all have different, unique experiences," they shared. "When we call ourselves one category, we often lose the marginalized voices."
Bhattar also called upon the Asian American community to "complicate the conversation" by addressing how it can contribute and confront issues such as the Black Lives Matter movement by challenging anti-black sentiment, for example, and by moving communities cyclically and holistically.
"If you throw enough rocks in the water, enough ripples can create waves — and rivers can also soften rocks," Bhattar explained.
A full schedule of events celebrating Asian American and Pacific Islander Heritage Month is available online.