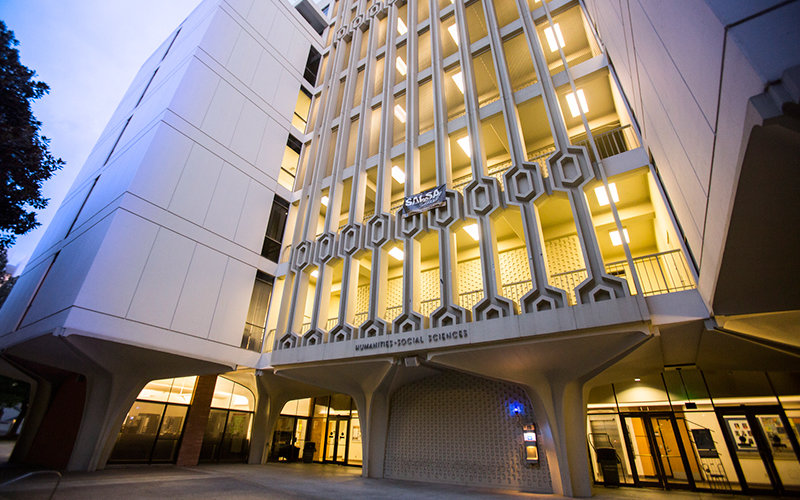 Humanities & Social Sciences Week kicks off Monday, April 11, with a resource fair in the Quad, a research symposium spotlighting students' studies and an evening talk by KCRW's Emmy-winning head producer Saul Gonzalez as part of the Hansen Lecture Series.  
Students' presentations on topics including "color casting" in Hollywood, American housewives, political power and the zombie apocalypse are set to captivate the audience at Tuesday's (April 12) fourth annual American Studies Student Association Symposium.
The four-day H&SS Week also includes lectures, movie screenings, and Wednesday panels on graduate school, research, therapy and the psychology research lab. On Tuesday, April 12, Teaching English to Speakers of Other Languages and linguistics students will honor Cheryl Boyd Zimmerman, professor emeritus of modern languages and literatures, for 17 years of campus service.  
Karen Halttunen, a USC professor of history, will deliver her keynote "Intimate Topography and the Crisis of Place in Thoreau's New England" at 3 p.m. Tuesday, April 12, during the daylong student symposium in the Titan Student Union. The week concludes with a poetry workshop Thursday, April 14.
Tuesday, April 12, film screenings include:
8 a.m. – 10:50 a.m. — "The Ax Fight" and "The Last of the First," in Room 360 of the Pollak Library.
11 a.m. — On screen: "A Scanner Darkly," based on Philip K. Dick's novel of the same name. The film will be introduced by David Sandner, professor of English, and concludes with a student-led discussion, in the Titan Student Union.
3-5:30 p.m. — "Under the Skin" shows in the Titan Student Union. Matthew Calarco, associate professor of philosophy, will lead a post-film talk.
3 p.m. — Screening of "Dirt! The Movie" in Room 422 of the Humanities-Social Sciences Building.
A full H&SS Week schedule is posted here.