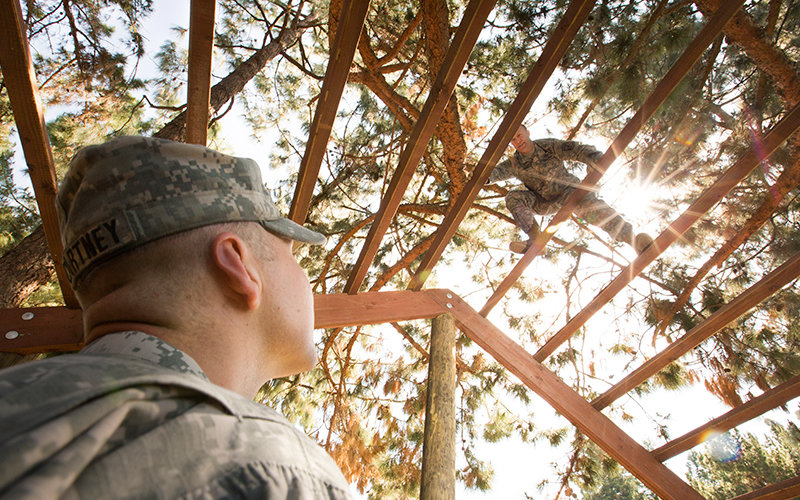 What:
Cal State Fullerton will celebrate the opening of the Roy Lopez Army ROTC Obstacle Course on April 22. Army ROTC (Reserve Officer Training Corps) cadets will use the military-grade obstacle course for physical training and conditioning, team building and leadership. The celebration is open to the public.
When:
Friday, April 22
10 a.m.-noon 
Where:
Cal State Fullerton's athletics fields, north of Titan House
800 N. State College Blvd., Fullerton, 92831
Program:
10 a.m. — Welcome remarks, Laurie Roades, dean of the College of Health and Human Development
10:30 a.m. — Ribbon-cutting ceremony, including keynote by Shari McMahan, CSUF deputy provost and associate vice president for academic affairs
11 a.m. — Tours of the course, which includes a belly crawl, rope climb, swing-stop-jump, balance log, 6-foot vertical wall and other obstacles designed to challenge cadets' strength and endurance in a fun and mentally engaging way.
Why:
The University's ROTC program is expected to save $10,000 annually in costs related to the transportation of cadets to Camp Pendleton for training. The course is dedicated to former ROTC student, the late Roy Lopez.
Background:
To honor Lopez's his memory, his mother, Adriana Mraz, donated $150,000 to help the ROTC program build a military obstacle course on campus. Additional donations of $50,000 helped the college to complete the new course, located between the Titan Sports Complex and the Fullerton Arboretum. In the future, other University departments and local organizations can look forward to having access to the course, along with the ROTC.
Additional:
In celebration of the ROTC centennial this year, CSUF ROTC cadets will participate in a 5K run on campus at 9 a.m. Saturday, April 23, beginning at the Titan Sports Complex. ROTC and JROTC cadets nationwide will participate in the run at the same time to mark the anniversary and attempt to set a new mark in the Guinness Book of World Records. CSUF has hosted the ROTC program on campus since 1983.
Parking:
$8 for a daily permit or $2 per hour at Park and Pay spaces Monday through Friday. Details are available online.
More Info:
Contact Evelyn Somoza, College of Health and Human Development, 657-278-7299
Media Contact:
Debra Cano Ramos, 657-278-4027