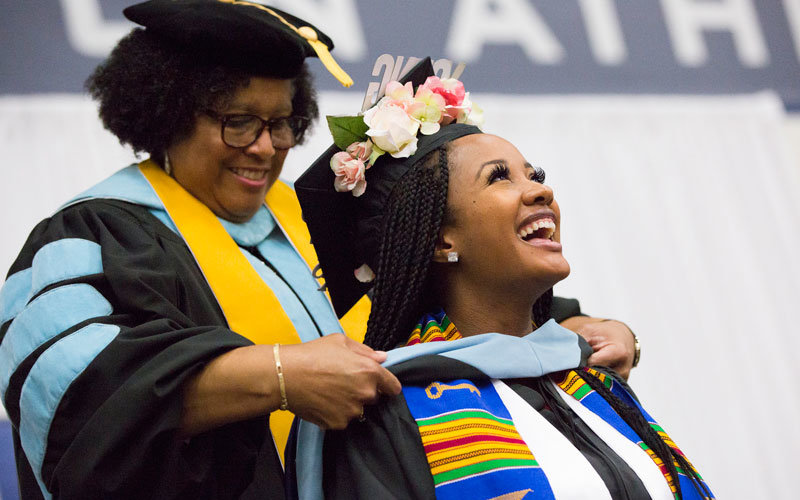 Spirits were high as thousands of graduates and candidates for graduation celebrated their milestone achievement with family and friends — a crowd of more than 69,000 — during Cal State Fullerton's May 21-22 commencement ceremonies.
Following the procession, led by Faculty Marshal Robert Istad, professor of music and the University's 2015-16 Outstanding Professor Award honoree, CSUF President Mildred García welcomed the Class of 2016.
"Graduates, you did it!" she exclaimed. "You juggled family, work, school, binge-watching "Game of Thrones" or "Project Runway" … You learned new lessons and made old friends, worked all day and pulled all-nighters. And because you didn't turn your back on challenges, today, you reach one of your dreams: a university degree. Congratulations, Class of 2016, and remember, Titans reach higher!"
World-renowned soprano and CSUF alumnus Deborah Voigt gave the keynote address. Internationally revered for her performances in the operas of Wagner, Strauss and more, Voigt appears regularly as both performer  and host of the Metropolitan Opera's "Live in HD" series. She has received critical acclaim for her opera career, yet has maintained ties with her alma mater — returning to campus frequently, including the recent dedication of the School of Music. During Saturday's ceremony, she was presented with an honorary doctor of fine arts degree.
"As a former student at Cal State Fullerton, it is a tremendous honor for me to be asked to speak before you," she told the thousands gathered on the athletics fields.
She relayed how her love of music manifested itself when she was 3 years old and smitten with the music of "My Fair Lady."
"I came from a strict Southern Baptist family, and my parents frowned on secular music," she said. "But my grandmother had a recording, and she would play it for me. I would use her apron as a costume and in my best 3-year-old Cockney accent, belt out the songs."
That soon led to other music she loved, and at age 14, Voigt came to the realization that she was "meant to sing.
"It just came upon me. I knew I was put on this earth to sing," she said. "As she looked out to the graduates, she added, "You will experience your own version of this. There will be 'the thing' that you feel you must do. Trust that feeling. Respect it. When a pathway that excites you opens up, go down it."
When Voigt arrived at CSUF, she sometimes felt overwhelmed, but met the person who would become "the most influential teacher in my life": Jane Paul Hummel, professor emeritus of music, who attended the ceremony. "She would be my coach, on and off, for 30 years and is one of my dearest friends. With her, I felt utterly safe, and she supported me through ongoing selfless gestures.
"Let people help you," she continued. "You will not succeed without the support of at least a few key people. They offer you an invaluable gift. Don't be a hero, accept the help."
"You must also dedicate yourself. It takes tremendous dedication to sing opera, but it's worth it. … Understand that the hours you put in are much more rewarding than the accolades you may receive.
"When I was Googling 'how to give a commencement speech,' they all said to end with a rousing conclusion," she noted. "One of my favorite roles is Brünnhilde, the warrior princess in Wagner's "Ring" cycle. She appears on stage suddenly and then is on stage for hours. I think the best conclusion for me is to sing the battle cry of Brünnhilde."
And with that, the diva sang to the crowd.
Silas Abrego, a member of the California State University Board of Trustees and emeritus vice president for student affairs from CSUF, addressed the students, as well.
"On behalf of the CSU Board of Trustees, it is an honor to be here today," he said. "As a lifelong Titan who worked on this campus for nearly 30 years, it's also great to be back home. And make no mistake, Titans. That's what this University will be now and forever: your home.
"Many of you don't realize it yet, but the degree you fought so hard for will now fight for you. It will open doors and transform your life and family legacy in ways you cannot even begin to comprehend. It will be the foundation upon which you build your career, family, neighborhoods and communities."
García also addressed the College of Education's ceremony, noting: "Graduates, I know firsthand what an incredible difference your work will make in the lives of the diverse students of our state and nation."
Sunday Commencement Update
Cal State Fullerton's Sunday commencement ceremonies featured California State University Chancellor Timothy White, who welcomed the graduating class into the CSU's alumni network of more than 3.1 million alums.
"You and your peers will be called upon to solve the most complex issues and challenges of our time with knowledge, teamwork, and a passion and commitment for inclusivity and excellence. I know that as Cal State Fullerton graduates, you have the grit, smarts and swagger to overcome personal and professional challenges, embrace opportunities and spark innovation."
María Elena Salinas, a winner of six Emmy awards and one of the first Latinas to win the Lifetime Achievement Award from the National Academy of Television Arts, served as the keynote speaker for Sunday's commencement ceremony.
Co-anchor of "Noticiero Univision" and co-host of the news magazine "Aquí y Ahora," Salinas has informed millions of viewers around the world for more than three decades. She shattered glass ceilings for women and Latinos and has interviewed every U.S. President since Jimmy Carter. She moderated the first bilingual national Democratic presidential candidate debate in U.S. history and was called the "voice of Hispanic America" by the New York Times. 
During the ceremony, Salinas was awarded an honorary degree of doctor of humane letters. CSU Trustee Rebecca Eisen conferred the degree on behalf of the CSU.
"To the students here today, you are the new dynamic of our country. The future of our country is in your hands."
"My life experience is one that many of you can relate to," Salinas told the crowd of thousands. "I see myself in many of you. I grew up with two cultures and two traditions. I speak two languages. I experienced two very different worlds that blended to become one."
Salinas took a moment to address Spanish-speaking parents in their native language because "our language is what brings our community together." She told them, "As parents, you have much to be proud of. Thank you for your efforts and perseverance in getting your children to this point."
Salinas described working in a clothing factory at age 14 to help make ends meet. Her parents, she said, worked hard and sacrificed much to build a better life. 
"The best possible inheritance they gave me was a strong work ethic and a social conscience," she said. She also recalled her early days as a reporter when she was sent out to cover an election where, for the first time, a Latino candidate was on the ballot.
"But out of 60 people I spoke to, about 50 weren't voting, and many didn't even know there was an election," she said. "I came back to my boss and told him I didn't have a story, but he said, 'Don't you see? These people feel disenfranchised from America. This is important.'
"From then, I went beyond reporting the news with a mission of empowering Latinos in the political process. We can't be bystanders.
"You students are lucky," she continued. "I know you've worked hard to earn your diplomas, but you are lucky to be born in this generation. You have more resources and more opportunities than your parents had. You attend a school with a diverse student body and that graduates more Latinos than any other university in California.
"We are now passing the baton to you to take care of the world. You are the ones to build bridges, not walls.  Believe in yourself. Strive to do your best. Tell yourself, 'I'm here and I'm moving forward.' You have the potential and eagerness to change the world. You are an amazing generation."
Kelsey Brewer, a political science major who contributed more than 100 hours of community service per month as an appointed trustee for the CSU Board of Trustees and vice chair of its Government Relations Committee, also graduated on Sunday. In her speech before her former classmates, she said, "Hopefully, all of you paid attention in your history classes, and political theory classes and public administration classes, and realized that change very rarely happens in a revolutionary sort of way. Change oftentimes is slower, quieter, looks less like an explosion and more like a person lighting a candle in a dark room. Filling a void that once existed with their mere presence. That is the kind of change that matters. That's the kind of change the world needs."