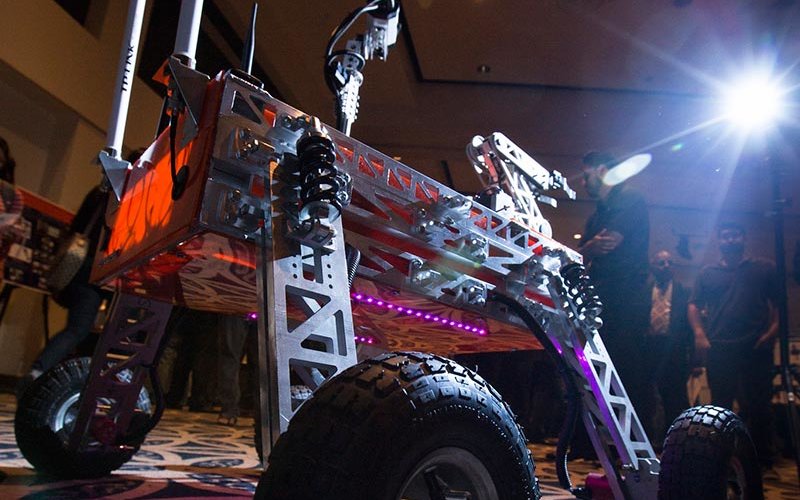 Five Cal State Fullerton student teams put their engineering skills to the test to create innovative design projects — from a mars rover and rockets to a Disney ride inspection device — to capture accolades at the Engineering and Computer Science Student Projects Showcase and Awards.
The projects selected for awards, judged by industry professionals, are:
Ed Huizinga Innovative Idea/Best Multidisciplinary Project
Titan-1 Rover, a robotic system designed for space exploration and rescue missions, won the $3,000 award. The rover was created by a 25-member multidisciplinary team of mechanical engineering, electrical engineering, computer engineering, mathematics, computer science, geology and business majors. Team lead is Brent Fritz, mechanical engineering major, and faculty adviser is Nina Robson, assistant professor of mechanical engineering, with collaborators Salvador Mayoral, assistant professor of mechanical engineering, and Jon Woodland, machine shop technician.
Best in College – Computer Science
Undergraduate Gabriel T. Giancristofaro, an exchange student who is a computer science major at the University of Sao Paulo in Brazil, received a $1,000 award for his project, "Predicting Sentiment in Social Media Posts Using Visual and Textual Features." He applied "machine learning" (analysis that automatically classifies data based on previously seen examples) to identify if public posts made to Instagram expressed positive or negative sentiment toward the California Department of Transportation and its projects. The study applied machine learning to photographs, captions and comments from the social network, and showed that including both image and text data increased the accuracy of identifying sentiment. His faculty adviser is Anand Panangadan, assistant professor of computer science.
Best in College – Engineering, First Place  
The Disney Weld Inspection team, which received a $1,000 award, designed and developed an automated weld inspection device for the Indiana Jones ride at Disneyland to speed up and optimize the inspection process. The project is the latest generation of a student team effort launched a few years ago, in collaboration with Disney Resort engineers. Team lead is Roberto Alvarez, mechanical engineering major, and Robson is the team's faculty adviser. 
Best in College – Engineering, Second Place
The Bristol Industries Automation Team members received a $700 award for their design of an "end effector," a device or "hand" that attaches to the end of a robot arm. The project's goal was to automate a manufacturing process of self-locking shank nuts to increase production and reduce labor. Team leads are graduating mechanical engineering majors Taylor Cerini and Gabrielle Martinez. Robson is their faculty adviser.
Best in College–Engineering, Third Place
This rocket engineering team, using emerging technologies, created a solid fuel rocket that can be propelled more that 10,000 feet in the air while carrying a 10-pound payload. The team, awarded $300, also developed its own amateur rocket fuel. Team lead is Adrian Iniguez, a graduating mechanical engineering major. Faculty advisers are Joseph Piacenza and Haowei Wang, assistant professors of mechanical engineering, and Woodland.