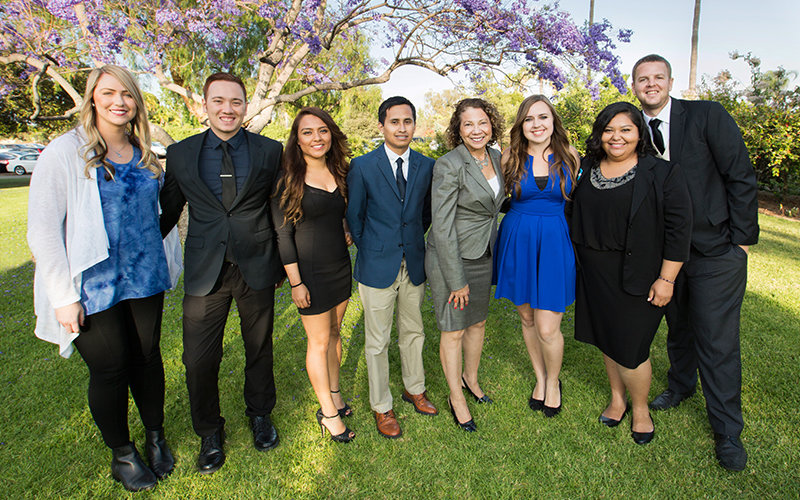 A realization of dreams and the anticipation of promising futures set the celebratory tone when faculty and staff members, family, donors and friends gathered May 4 for Cal State Fullerton's annual Guardian Scholars Recognition Reception to honor nine graduating seniors.
The Guardian Scholars Program awards former foster youth a full scholarship to the University and provides the additional support — including mentoring and counseling — needed to help them achieve their educational and personal goals and transition to self-sufficient adulthood.
Established at Cal State Fullerton in 1998, the collaborative partnership between public agencies and the private sector, was the first of its kind in the nation.
This year's graduating scholars are:
April Allton, B.S. human services
Nicole Doherty, B.A. art-studio art
Gary Gass, B.A. business administration
Tamika Jones, B.A. criminal justice and psychology
Stephanie Martin, B.S. child and adolescent development – early childhood development
Hector Najar, B.A. public administration
Erica Ontiveros, B.S. human services
Angelica Quiroz, B.A. political science
Daniel Smith-Bryant, B.A. psychology
 
"We could not be more thrilled as we celebrate the transformation and accomplishments of these students," said Berenecea Johnson-Eanes, vice president for student affairs. "These students are brilliant, resilient, determined and energetic as they balance their lives and thrive — no matter what! We are so, so very proud of you."
The scholars also addressed the audience at the reception.
"Everyone thought I'd end up on drugs, in jail, or homeless," said Tamika Jones. "Instead I am graduating from Cal State Fullerton. While a student here, I was able to study at the University of London for a semester. I also was trained to work as a behavioral therapist with children who have autism. Now my goal is to transition into law enforcement and serve as a probation officer."
"When I was 15, I wasn't thinking of college," said Stephanie Martin. "I wanted to turn 16 so I could get out of my house. School was an escape for me. Being in Guardian Scholars taught me I could achieve anything as long as I was willing to do the work. They make me feel like this was a family."
Erica Ontiveros will move on to a master's program in social work at UCLA … on a full scholarship.
"I couldn't have made it to this point without Guardian Scholars," Ontiveros said. "I didn't believe in myself. But because people here believed in me, I found a chance to better my life. Now I want to do for others what was done for me."
"We are here to celebrate these amazing students," said President Mildred García. "They have overcome unprecedented obstacles. More than one-third of foster children have been abused, 65 percent are emancipated with no place to live, and only three percent go on to college, let alone graduate. Yet the graduation rate of our scholars is 70 percent, with an average GPA of 3.02.
"In addition, these students support others through a dozen outreach events each year. As these nine Guardian Scholars graduate and realize their dreams, we want you to know how proud we are of you … and we appreciate all the supporters who were there — family members, friends, donors, faculty and staff — all the people who helped ensure you would get here."