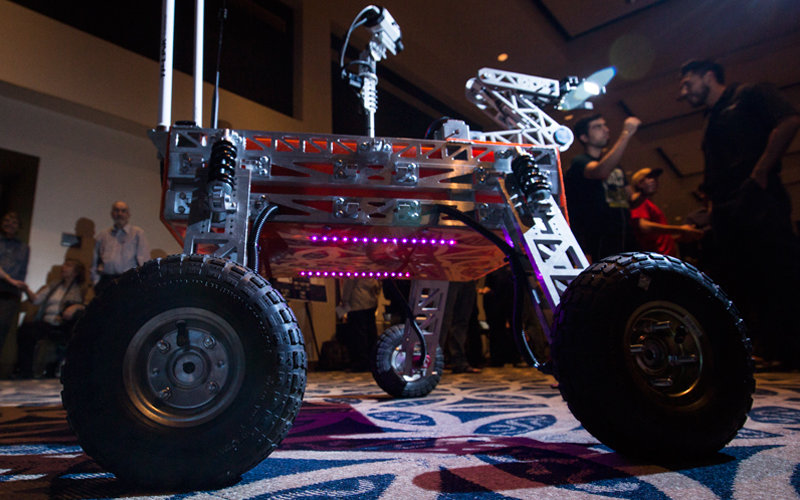 It's mission possible for two Cal State Fullerton engineering student teams as they take off to the Utah desert in June to participate in separate intercollegiate competitions with their robotic Mars rover and solid fuel rocket.
The 25-member Titan Rover team competes June 2-4 in the 2016 University Rover Challenge at the Mars Desert Research Station in Hanksville. The team designed and built Titan-1, a semi-autonomous robotic system designed to survive and operate on a simulated Martian environment for extended periods of time.
The rocket team will compete June 15-18 in the Intercollegiate Rocket Engineering Competition, sponsored by the Experimental Sounding Rocket Association, in Green River. The mechanical and electrical engineering team, members of Titan Rocket Engineering Society, researched and designed a solid fuel rocket to soar 10,000 feet (2 miles high) above ground level with a 10-pound payload.
Exploring Mars
The Titan Rover team is composed of students majoring in mechanical, electrical and computer engineering, as well as math, computer science, geology and business administration.
"To solve some of the challenges of this complex project, the 2016 Titan Rover team uses innovative research techniques and cutting-edge technologies, such as a Leap Motion controller, to control the robotic arm," said Nina Robson, assistant professor of mechanical engineering and the team's adviser. The controller senses the natural movement of the operator's hand in space and synchronizes it with the arm of the rover, she explained.
The rover's robotic arm can be equipped with a variety of devices to meet its mission objectives, such as flipping switches or turning valves, noted Brent Fritz, project lead and May mechanical engineering graduate.
The six-wheeled Titan-1 must complete several tasks in the competition, including traverse a variety of Mars-like terrains and perform astronaut assistance activities like collecting objects in the field. Each of the tasks is equally weighted and combined into a total score for the competition, Fritz said.
Rocket Fever
The seven-member rocket team has already soared to new heights. In a recent competition, the team won first place against a field of 24 invited teams from Southern California colleges and universities, said Adrian Iniguez, project lead and May mechanical engineering graduate.
The team, whose faculty advisers are Joseph Piacenza and Haowei Wang, both assistant professors of mechanical engineering, is hoping to reach greater heights at the Utah competition.
"Many of the scientific and engineering requirements for this project were carefully integrated with the competition requirements in order to achieve a successful final product," said Iniguez, whose career goal is to develop the next-generation engines for space travel.
"The purpose of selecting the rocket design was to challenge us as students, expose us to different ways of manufacturing and give us the opportunity to work on an aerospace-related, real-world project to help us transition into our professional careers," he added.