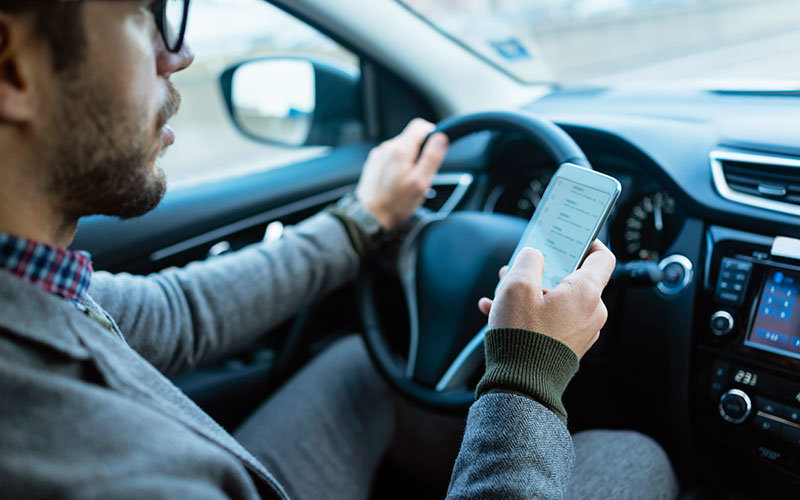 Despite laws and studies that have shown that distractions while driving can lead to accidents, many drivers are still reluctant to close their cell phones and forgo access to texts, emails or phone conversations.
According to the AAA Foundation for Traffic Safety, more than two in three drivers, or 70 percent, report talking on a cell phone while driving; more than two in five admit to reading a text message or email, and nearly one in three drivers admits to typing or sending a text or email with the past 30 days. 
"People are often aware of the risks associated with such behaviors, but cave in to their temptations — when bored — to use such applications while driving," said Ofir Turel, Cal State Fullerton professor of information systems and decision sciences.
How much more difficult could it be to deal with such temptations if you are a driver with attention-deficit hyperactivity disorder, "a problem which has increased in recent years," added the researcher.
Turel and Antoine Bechara, professor of psychology at USC's Brain and Creativity Institute, set out to explore the intersection of the use of Facebook or other social media while driving and ADHD among adults. The study, "Social Networking Site Use While Driving: ADHD and the Mediating Roles of Stress, Self-Esteem and Craving," was published in March in Frontiers in Psychology.
"What we showed in our study is that it may also be attributed to the fact that people with ADHD symptoms are much more likely than others to sense strong cravings and engage in dangerous, impulsive and problematic behaviors while driving, such as social media use," he explained.
"We wanted to understand how ADHD symptoms can promote social networking while driving and what drives this association."
Turel and Bechara found that use of such social media "is a sort of compensatory impulsive behavior that helps people deal with stress and low self-esteem, both of which are associated with attention deficit and hyperactivity symptoms."
And such use is much higher than previously thought.
Through self-reporting, the researchers discovered that 40 percent of the test subjects used Facebook at least once over a period of a week, "and five percent reported very frequent engagement in Facebook use while driving — essentially every time they drive," said Turel, adding, "Note that Facebook use while driving, as opposed to say, merely texting, can be a more serious distraction."
In measuring differences between groups of those with and those without ADHD symptoms, the researchers found lower levels of self-esteem and higher levels of stress and the craving to use Facebook among those who presented ADHD symptoms. Those individuals did eventually show a higher level of using Facebook while driving.
More than 450 individuals took part in the study, including 347 who did not present symptoms fully consistent with ADHD. Formal ADHD diagnostics beyond basic screening guidelines were not obtained, and the study focused on only a few variables in mediating the association between ADHD symptoms and use of social networking while driving. Turel and Bechara called for further research into the issue.