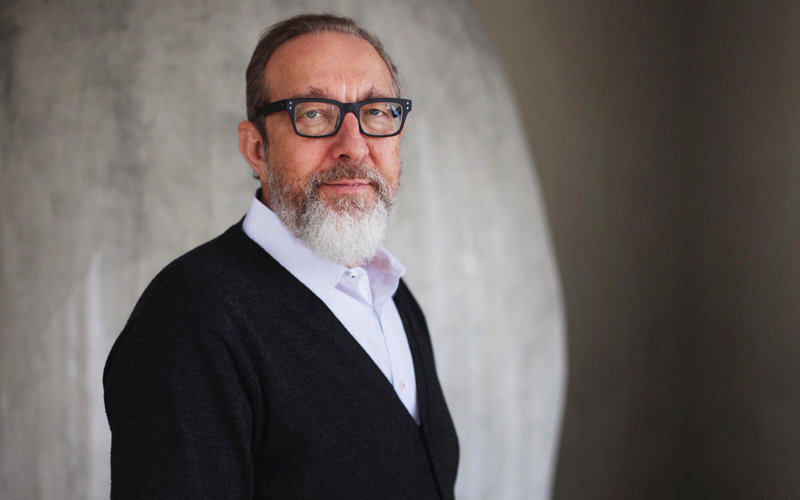 Mike McGee, director of Cal State Fullerton's Begovich Gallery, is one of this year's Helena Modjeska Cultural Legacy Award honorees. The 17th Annual Orange County Arts Awards, hosted by the nonprofit Arts Orange County, will honor him Oct. 25. 
"Generations of artists, curators and museum professionals here and around the nation owe their careers to his keen eye for talent and his devoted mentorship," stated Arts Orange County in its announcement. "When anyone speaks of art in Orange County, Mike McGee is always the first name that comes up. For 25 years, he has been its foremost expert and leader in the field."
The professor of art co-founded Grand Central Art Center, the University's educational, residential and commercial facility in Santa Ana's arts community. 
"Professor Mike McGee has played a vital role in shaping the visual arts 'seen' in Southern California through his passion for contemporary art and his vast knowledge of unusual collections," said Dale Merrill, dean of the College of the Arts." As the head of the exhibition design program in the College of the Arts, he has inspired thousands of students who have gone on to work in all the major galleries and museums throughout Orange County, which is a testament to the success of his program. Professor McGee's contributions are enormous; Arts Orange County bestowing this award to him is a great honor and recognition of the impact he has had on our community."
McGee '78 (B.A. art) is a past president of the Board of Trustees for the Orange County Center for Contemporary Art and a member of the Mayor's Arts Task Force for the City of Santa Ana. He is responsible for nearly doubling the number of works in the University's sculpture collection, and is also an art writer and curator.