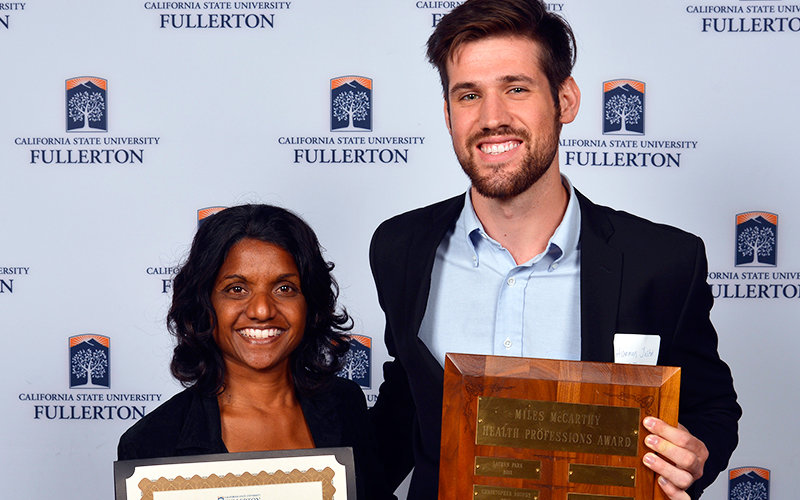 Cal State Fullerton graduate Justin Hamman has begun his training to become a physician at Arizona College of Medicine, Phoenix — moving closer to fulfilling his dream of helping to better people's lives and serving those in need.
"I'm pursuing a career to serve humanity because I have found that I am not anywhere as passionate and excited as when I work in areas that are steeped in authentic human experiences and compassionate action," he said. 
Hamman is a 2016 recipient of the Miles D. McCarthy Health Professions Award, a University award recognizing high academic achievement, integrity and a commitment to serve humanity. It is named for the founding faculty member of the Biological Science Department who started the health professions advising program more than 50 years ago. 
During his undergraduate experience, Hamman credits his science professors for helping him achieve his academic accomplishments. He recalled that his general chemistry class with Richard Deming, professor emeritus of chemistry and biochemistry, helped define and guide his scholarly pursuits. 
"Dr. Deming's class seriously challenged me and taught me the academic responsibility that I needed to succeed in even more challenging courses," said Hamman '15 (B.S. in biological science-cell and developmental biology). 
His experience of working in the lab of Marcelo Tolmasky, professor of biological science, who studies antibiotic resistance to bacteria, influenced the way Hamman learned about and approached research. "Dr. Tolmasky encouraged me to analyze my own data and be creative with solutions or project ideas. I will be doing a research thesis in medical school and look forward to putting the skills he taught me into practice." 
To ready him for the rigors of medical school, Hamman participated in the clinical care volunteer program at Riverside Community Hospital. 
"This place opened my eyes to the very real health issues that face communities around us, increased my knowledge of the field and improved my capacity to relate and interact with those who were sick," Hamman explained. "This helped me further my academic goals as it gave me a visualization of what my future could be like if I continued to work hard in my academics." 
Since graduation, Hamman prepared for and applied to medical schools. He also sought assistance from faculty advisers through the Health Professions Advising Office who helped him polish his applications and prepare for competitive interviews. 
"Applying to professional school requires more than success. The process can be quite confusing and the Health Professions Office was always available to walk me through it," he said. 
The future physician, who began his medical studies in June, looked forward to spending his time learning all about medicine. 
"It's something I have so much passion for, and it is such an honor and blessing to finally begin my training as a doctor."