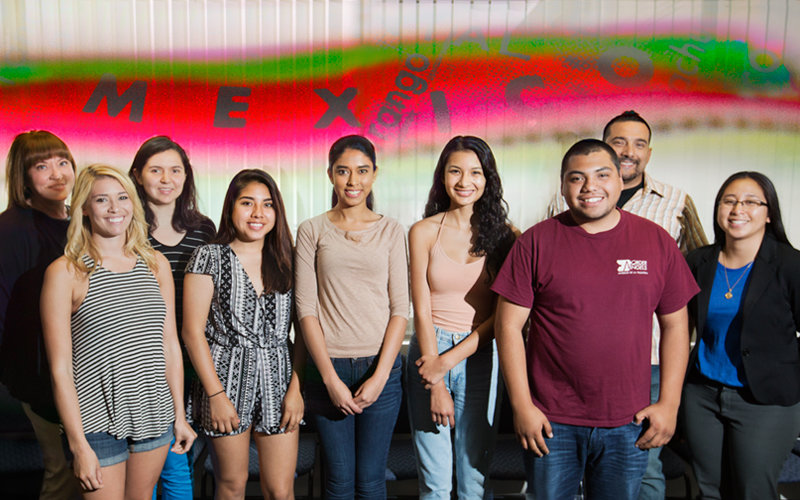 Seven Cal State Fullerton students are studying abroad in Guadalajara and Guanajuato, Mexico, this summer, where they will tour cultural sites, visit partner universities and study topics like immigration, child development, cultural context, art and muralism.
"The summer 2016 Mexico program engages Cal State Fullerton faculty, staff and students from multiple colleges and majors, making this a truly interdisciplinary endeavor," said Kari Knutson Miller, dean of University Extended Education and associate vice president for international programs and global engagement (IPGE).
Knutson Miller is accompanying the students for the July 7-23 trip to Mexico, along with Julián Jefferies, assistant professor of literacy and reading education; Rose Adams, lecturer in art history; Salvador Mayoral, assistant professor of mechanical engineering; Christina Ceisel, assistant professor of communications; and Leslie Chanthaphasouk, international special projects coordinator and IPGE staff lead.
The Mexico study abroad program aligns with the University's commitment to help students gain a global outlook through study abroad programs. Senior David Gonzalez shared his desire to see "where my family came from."
"Many of the students have family in Mexico, and they are interested in better understanding the culture of their heritage," said Knutson Miller.
Participants in the program, and their majors, include:
Jocelyn Baltazar-Cordova, junior, child and adolescent development
Daniel Bravo, senior, business administration
Diana Dippner, junior, child and adolescent development
Elizabeth Esqueda, junior, child and adolescent development
David Gonzalez, senior, psychology
Roxanna Ramos, junior, communications
Patricia Rodriguez, sophomore, psychology
Follow their study abroad experiences online at CSUF Storify.