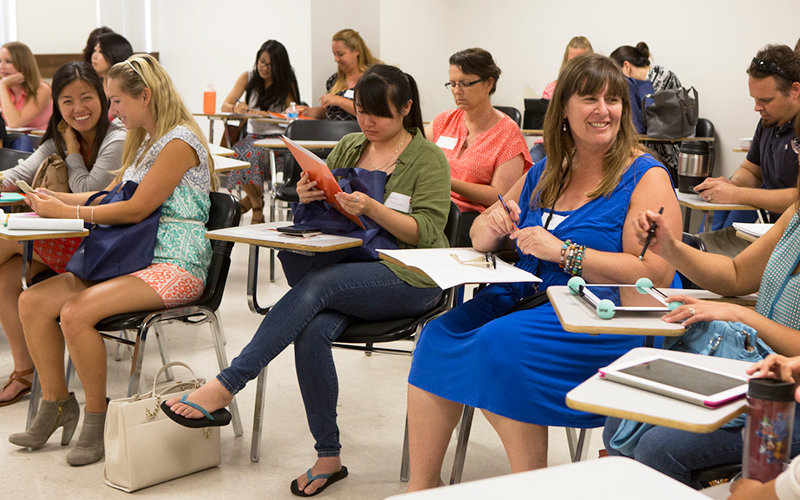 Cal State Fullerton is hosting the second annual Better Together: California Teachers Summit Friday, July 29, featuring keynote addresses by education leaders, TED-style EdTalks presented by local teachers and Edcamp discussions on timely topics in education.
The Teachers Summit is free to all California pre-K-12 teachers, teacher candidates, school administrators and other educators. Registration and additional information about the summit is available on the California Teachers Summit website.
The event will be held in Titan Gymnasium and various campus locations. The CSUF Irvine Campus, for the first time, also is a host site.
The summit is a unique day of learning led by teachers, for teachers. The summit will bring together teachers at nearly 40 locations across the state to share ideas, join a teacher network and learn effective strategies for implementing the new California Standards in their classrooms.
Topics featured include California Standards in English/language arts and math and Next Generation Science Standards. Teachers will walk away with access to new resources and concrete tools that are already working in classrooms across the state.
The Association of Independent California Colleges and Universities, the California State University (CSU) and New Teacher Center are partnering to organize this gathering. CSUF's Claire C. Cavallaro, dean of the College of Education, led the CSU system effort last year, and will direct this summer's program, as well.
Last year, teachers described the summit as a powerful day of learning that made them proud of what they do and reminded them what an important difference they make in the lives of their students. Teachers left the summit energized for the upcoming school year and prepared to take their teaching to the next level.
Follow the summit on Twitter for updates and join the conversation using the hashtag #CATeachersSummit.
Media Contacts:
Debra Cano Ramos, 657-278-4027 
Chi-Chung Keung, 657-278-8487
Paula Selleck, 657-278-4856