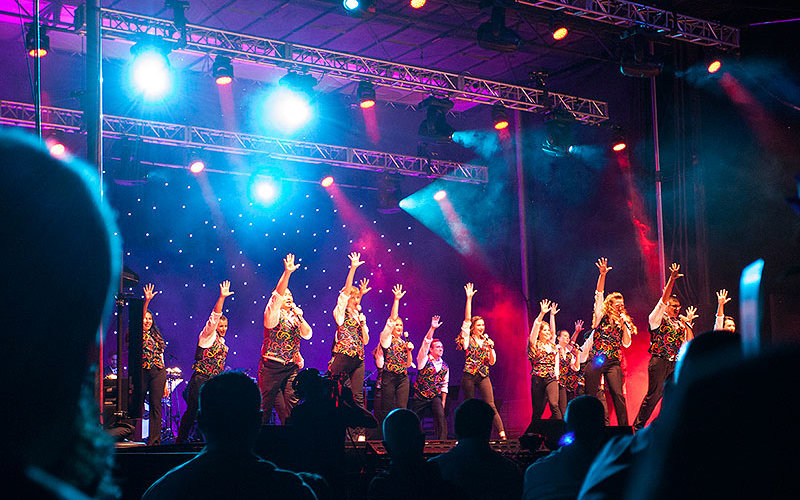 About 4,000 friends and supporters of Cal State Fullerton gathered Saturday night for the University's annual Concert Under the Stars.
Following welcoming remarks from Dale Merrill, dean of the College of the Arts, guests enjoyed an evening of spirited music and dance presented by CSUF students — 23 vocal music majors, 17 jazz music majors, 13 musical theatre majors, eight dance majors, an acting major, a broadcast journalism major and an electrical engineering major, to be precise!
The theme of the evening, "America's Bandstand," takes its name from a body of songs, often referred to as the Great American Songbook, and represents music that transcends its era and was created to be heard and performed for generations to come.
Songs such as "Begin the Beguine," "It's De-Lovely," "It Don't Mean a Thing" and "He'll Make It Alright" focused on jazz, swing, gospel and show tunes. Later in the evening, guests enjoyed "city specific" pieces, such as "New York, New York," "Chicago," "Viva Las Vegas" and "Do You Know the Way to San Jose?" The evening ended with a fireworks extravaganza following the singing of "America the Beautiful."
CSUF President Mildred García delighted the crowd when she joined cast members onstage to dance to Neil Diamond's "America."
"The lyric to that last song ["They're Coming to America!"] should have been, they're coming to Cal State Fullerton because we've increased our enrollment to more than 40,000 students!" said master of ceremonies Tim Alexander '15. "As many of you know, I started my academic journey here as a student-at-risk-of-homelessness. I'm so grateful that I came to CSUF because they did not see me as a student AT RISK of homelessness; they saw me as a student AT RISK of greatness.
"They gave me tools to not only navigate historical and social barriers, but to break them down. And thanks to the Guardian Scholars Program, I graduated with my B.F.A. in acting and continue my studies here in the master of science in higher education program," Alexander added.
"All of you in the audience have a personal connection to a Titan here on this campus, and their stories of success are equally as inspiring, if not more. Thanks to your personal investment in our education, Cal State Fullerton can continue to provide students with access, resources, support, opportunities and a home away from home."
The event grossed more than $950,000, which will be used for student scholarships and student programs.