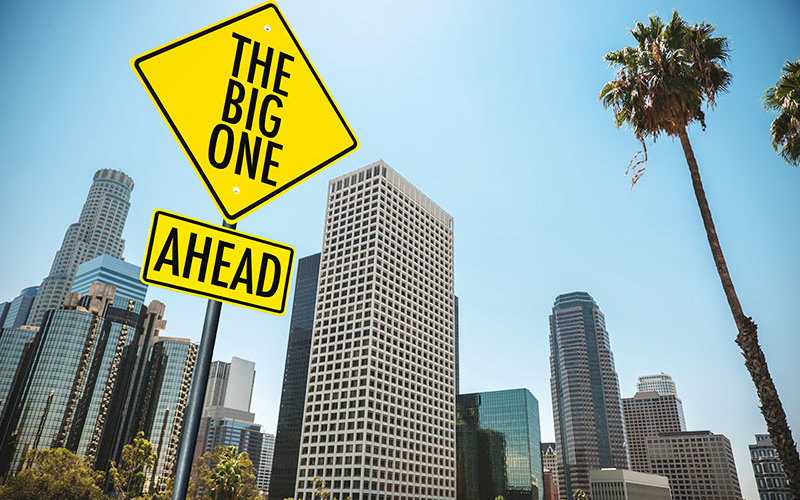 For years, Californians have been told that a chance of a 'massive' earthquake is not a matter of if, but when.
Experts recently have said that Southern California is overdue for a big one, especially along the notorious San Andreas fault, the site of the 1906 San Francisco quake. Today, the California Office of Emergency Services issued an earthquake advisory for Southern California following a swarm of small quakes in the Salton Sea area. (See website on preparing for earthquakes.) 
It's been 22 years since the Northridge earthquake — a magnitude 6.7 blind-thrust quake that was felt as far away as Las Vegas. As a result, 57 people died and another 8,700 were injured, while property damage was estimated in the billions.
And yet … since the 1994 Northridge earthquake, the number of homes that are insured for such an incident has decreased to about 15 percent, according to the California Earthquake Authority.
John Cross, lecturer in finance with more than 20 years of experience in the insurance industry as an attorney and manager, discusses the reasons for resistance to coverage.
Why are homeowners resistant to earthquake insurance?
For most it's two things. First, it's very expensive, especially in certain areas, e.g., the Bay Area, Malibu and others considered earthquake-prone. Second, the coverage, through the California EQ Authority, is limited. It often has a high percentage deductible — ranging from 5 to 25 percent with many home owners carrying a 20 percent deductible — and its coverage is limited., e.g., it provides little coverage for outside structures and hardscape, provides a low amount of coverage for additional living expenses [replacement housing while rebuilding] and often doesn't have that high a coverage limit in relation to the home insured. So, it's pretty expensive for what you get.
But it also must be said that for some, earthquakes are 'out of sight, out of mind.' The likelihood, in the public's mind, of actually sustaining significant damage is relatively low. And they often think that the government would provide help in a major disaster, as well.
Are homeowners covered for damage from quakes in a homeowner's policy?
Generally, no. The homeowner policy excludes coverage for losses due to earth movement, including earthquake. Some insurers, though, do offer earthquake coverage by endorsement. This is fairly common outside of California, and happens sometimes in the state. But it's expensive, even if it is available.
What should homeowners consider when looking at earthquake policies? Deductibles?
As with most things in insurance, consider deductibles, coverage limits and limitations, and of course, price.
What do homeowners need to know when looking for an earthquake policy?
First, many private insurers don't write earthquake coverage in California, so homeowners would have to go through the California Earthquake Authority (CEA). Second, in this case, as noted before, coverage is limited, due to high deductibles and coverage limitations. Third, depending on where one lives, it can be very expensive. But note: this isn't always true.
I live in Mission Viejo — regarded as very low risk for earthquake damage — and have the standard CEA policy with the 20 percent deductible and other limitations. I pay under $200 a year, a definite bargain. Most others with whom I've spoken turn down the CEA coverage, because for them, the price is more in the range of $1,500 to $2,000 annually for not that great coverage.
Related News:
Cal State Fullerton civil and environmental engineering faculty member Kristijan Kolozvari has been awarded a National Science Foundation grant for the study and development of innovative simulation tools to predict the seismic performance of tall buildings. Read more.