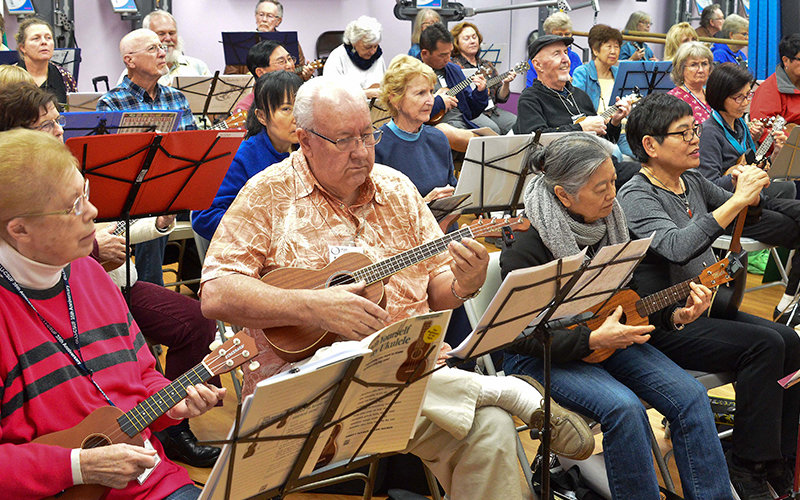 Understanding statewide measures on the November ballot, an intimate conversation with a Holocaust survivor, and an analysis of Broadway's best and worst musicals are just a few of the topics that will be presented this fall by Cal State Fullerton's Osher Lifelong Learning Institute (OLLI).
The free, public programs are held in Mackey Auditorium of CSUF's Ruby Gerontology Center, 800 N. State College Blvd., Fullerton, 92831. On-campus parking is $8 for a daily permit Monday through Friday.
Eclectic I Series
10-11:30 a.m. Tuesdays (except where noted)
Sept. 13 and Oct. 1 — "Are You Ready for the Elections? Voter Information Explanation" with the League of Women Voters of North Orange County
Oct. 4 — "Tchaikovsky's Fourth Symphony and More" (begins 10:30 a.m.) with Marek Żebrowski, lecturer for the Pacific Symphony Orchestra
Oct. 18 — "Beauty in Art and Aesthetics" with artist William J. Havlicek
Nov. 1 — "Mental Health Literacy in Older Adults" with Yuying Tsong, CSUF associate professor of human services
Nov. 15 — "Broadway's 10 Best, Worst, Silliest, Darkest and Most Ridiculous Musicals" with Jim Volz, CSUF professor of theatre and dance
Dec. 6 — "Heroines and Harlots: The Bible Stories You Didn't Learn in Sunday School" with Julye Bidmead, Chapman University associate professor of religious studies
Eclectic II Series
12:30-2 p.m. Thursdays
Sept. 15 — "U-ACRE: Outreach Project at the Fullerton Arboretum" with Sara E. Johnson, CSUF professor of anthropology
Sept. 29 — "Will America's Endangered Center Stand a Chance After the Elections?" with Benjamin J. Hubbard, CSUF professor emeritus of comparative religion
Oct. 13 — "Holocaust Survivor From Poland: Jacob Eisenbach"
Oct. 27 — "Brewing New Cultures: Vietnam in the Global Coffee Industry" with Sarah G. Grant, CSUF assistant professor of anthropology
Nov. 10 — "The Healing Flora of Brazil's African Diaspora" with Robert Voeks, CSUF professor of geography
Dec. 1 — "The Rise and Fall of Olympic Amateurism" with John Gleaves, CSUF associate professor of kinesiology
Also, join OLLI for TED Talks at 2:15-3:45 p.m. Tuesdays beginning Sept. 13 and continuing through Nov. 29. Watch videos together and discuss a variety of topics, from technology to entertainment to design.
Contact:
OLLI, 657-278-2446