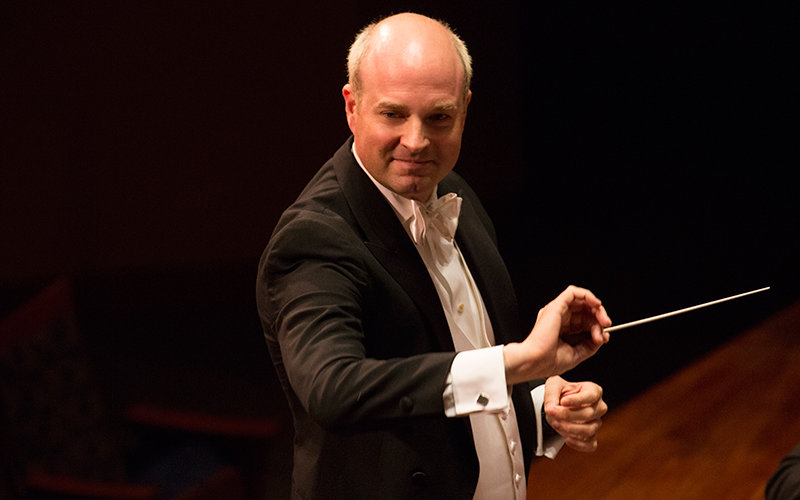 For his next performance, Robert Istad is doing what he does best — laying the groundwork to let others shine. The professor of music and director of choral studies, who this spring received Cal State Fullerton's 2015-16 Outstanding Professor Award, has recruited College of the Arts students for his 4:30 p.m. Tuesday, Oct. 4, Outstanding Professor Presentation, "Living the Arts," in the Clayes Performing Arts Center's Meng Concert Hall.
"'Living the Arts' will be about connecting with ourselves and our community through the lens of artistic expression," explains Istad. "My life and teaching are constantly uplifted and inspired by Cal State Fullerton's incredibly talented students and collaborating with my fantastic colleagues."
This year's Outstanding Professor Presentation, he adds, is focused on collaboration and will showcase the students from throughout the college.
"I'm so excited to highlight the wonderful work my colleagues are doing with our students. This will not be a typical lecture," he explains. "Rather, attendees will witness a curated performance that includes the CSUF University Singers, cello studio, musical theater, dance, opera, and even witness a piece of performance art from visual arts!
"Our students will inspire us all to become more involved with the arts in our lives and will show the ways in which CSUF's embrace of artistic expression has made our College of the Arts one of the finest in the nation," he adds.
A 5:30 p.m. reception will follow the presentation. The event is open to the public, as well as the campus community. 
Media Contact:
Sarah Muñoz, 657-278-3801