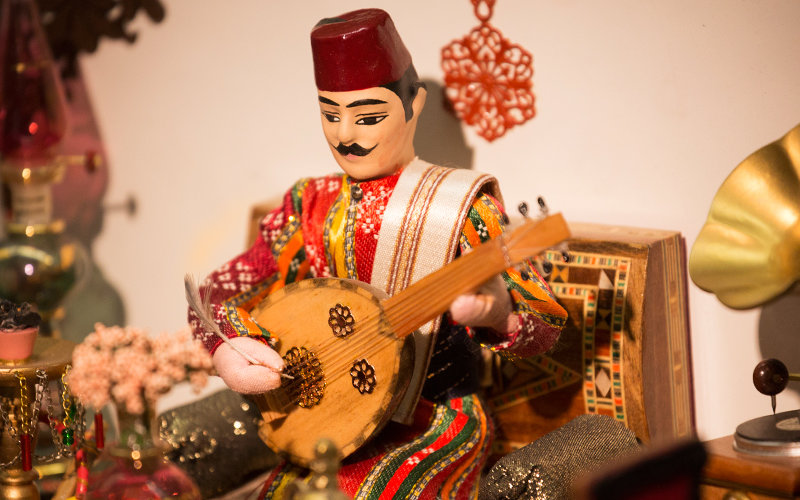 A new exhibition at Cal State Fullerton's Pollak Library spotlights Syria's rich history, culture and contributions. "A Country Called Syria" continues through Dec. 21 in the Salz-Pollak Atrium Gallery.
The exhibition is curated by Orange County-based mother and daughter, Maria Khani and Dania Alkhouli, who seek to promote peace and awareness of their culture amidst the Syrian Civil War that erupted in 2011. According to the United Nations refugee agency, more than 4 million people have fled Syria since the conflict began, and another 8 million people are believed to be displaced within the country.
"With the current upheaval in Syria, much of its culture, landmarks and identity are being destroyed," said Trish Campbell, Pollak Library exhibit program coordinator. "It is more important than ever that we strive to protect and preserve Syrian culture, as well as others around the world."
Through colorful textiles, artwork, musical instruments, furniture, jewelry and other artifacts, the exhibition provides a comprehensive background into the history and culture of Syria. Many of the pieces, which have become a rarity, due to the war, have been donated by Syrians keen to share the treasures of their homeland.
"Having 'A Country Called Syria' at a state university is a significant step because it allows us to reach a broad audience," said Alkhouli. "We hope that every visitor who takes the journey through our exhibition leaves with a greater sense of connection with Syria and its roots."
The exhibition has been on display at several Southern California venues, including the Huntington Beach Public Library, El Pueblo de Los Angeles Historical Monument and Muzeo Museum and Cultural Center in Anaheim.
"We feel that when people are more aware of Syria, it becomes easier for them to relate to the loss the country is currently facing," said Alkhouli. "This deeper knowledge allows us to better connect with one another, break stereotypes, create beautiful bridges and unite on a humanitarian base."
Exhibit events:
Dinner and a Movie: "Flight of the Refugees"
Sunday, Oct. 16, 6 to 9 p.m.
Rotary Club of Fullerton Room 130, Pollak Library
Experience an authentic Syrian dinner and watch the documentary film, "Flight of the Refugees." This film highlights the harrowing journey of Syrian families as they cross the Macedonian border from Greece to Germany and will be followed by a Q&A session with filmmaker Elias Matar. Tickets are $15.
Syrian Live Arts Show
Saturday, Nov. 5, noon to 4 p.m.
Rotary Club of Fullerton Room 130, Pollak Library
A showcase of the talent of local Syrian artists, this event will feature live musical performances; visual art from painters, designers and photographers; keepsake Arabic calligraphy; and photo booth with Syrian furniture. Admission is free.