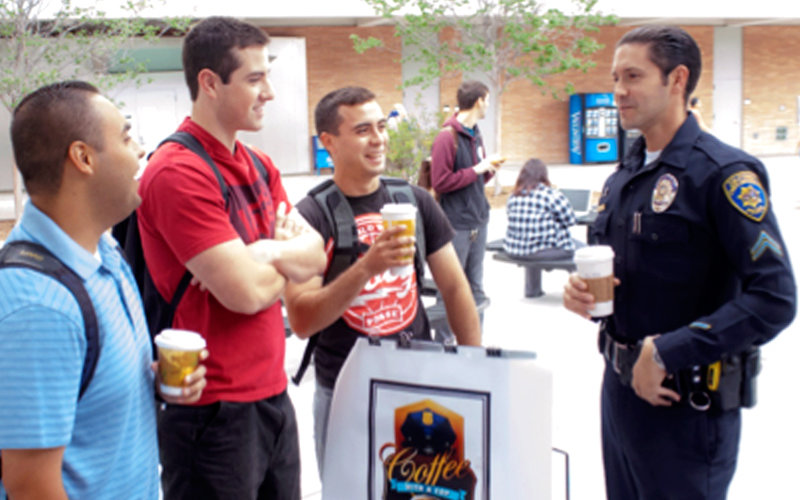 When the news increasingly became focused on the actions of police officers across the country, Cal State Fullerton's University Police decided to take decisive action to build trust and understanding between the campus community and themselves.
The result was EPIC. Encouraging a Positive and Interactive Community is a program designed to develop and maintain open lines of communication between the police department and the diverse campus community.
The program was honored with the Teamwork and Collaboration Award during Cal State Fullerton's Oct. 20 University Awards Program. The award recognizes teams "who demonstrate cooperation, collaboration and open communication."
"I couldn't be any prouder of all our staff that volunteered for this outreach program," said University Police Chief Dennis J. DeMaio. "This program builds bridges with our community to demonstrate and explain the expectations of the campus police and how it plays into our campus community."
Team members work with the campus community to address concerns, clarify confusion surrounding current events, discuss disagreements about law enforcement activities and break down stereotypes and misconceptions, says Capt. Scot Willey.
Last year, Corp. Jose Rosales, team leader, personally gave or directed more than 120 presentations before fraternities and sororities, Associated Students Inc., student clubs and athletes. Members also attended town hall meetings at Christ our Redeemer AME Church in Irvine.
EPIC introduced "Coffee With a Cop" discussions in which officers were able to listen to and answer questions about issues and concerns, as well as opportunities to take part in interactive "Shoot or Don't Shoot" simulations used in police training.
"The simulations opened the door on what it is like to face split-second scenarios such as police face," said Willey, noting that more than 400 students, faculty and staff participated.
"Through EPIC, we're trying to have a positive impact and bridge the gap between the diverse groups on campus," says Lt. Carl Jones, a 17-year veteran on the campus force. "We want to create a greater understanding and awareness of not only why we are here, but why police officers react the way they sometimes do."
Jones and Willey agree that much of what people see may be only part of the story, but without communication, that may be all they learn about an incident. "But as law enforcement, we have to see it from the other side as well," adds Jones.
"There is much that we can gain from listening, and sometimes acknowledging that we're not always right," said Willey.
"EPIC has helped make inroads into greater understanding and awareness," added Jones.
In addition to Willey, Jones and Rosales, other members of the EPIC team are: Jesse Blanpied, Karlton Bridgewaters, Katie Cappuccio, Iris Cortes, Hoang "Wayne" LeQuang, Kyle Millard, Jason Miller and Tom Perez.