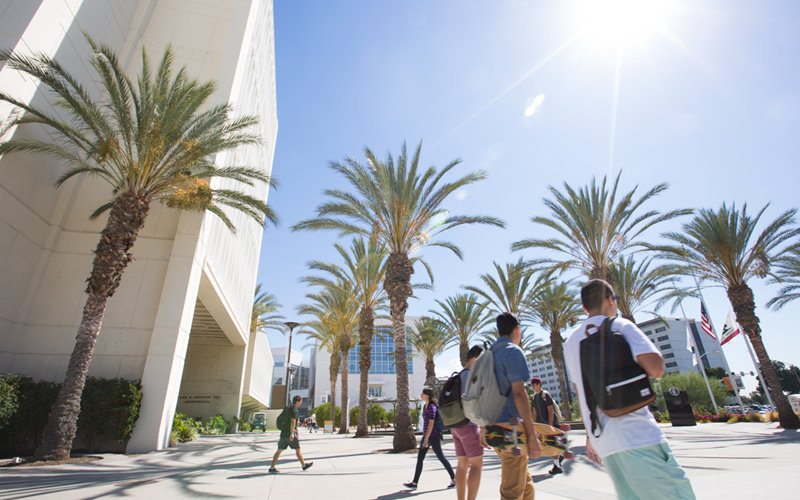 Creating community-based research opportunities, guiding students research in the lab and in the field, incorporating technology into the classroom, mentoring and co-authoring papers — just a few examples of what Cal State Fullerton faculty members have been doing to enhance the educational experiences for students.
For these efforts and more, the University recognized 81 faculty members Wednesday, Oct. 26, for outstanding teaching, specifically exceptional teaching effectiveness, collaborative teaching and high-impact practices.
The annual faculty recognition program, established in 1995, is sponsored by the Office of the Provost and Vice President for Academic Affairs, and the Faculty Development Center as a way of acknowledging faculty members each year in one of three areas: scholarly and creative activities, outstanding teaching and service to the campus and community.
Arts
Art — Jim Jenkins, Mike McGee and Christopher Slogar
Business and Economics
Accounting — Glen Hatton, Margaret Kim, Sophia Wang
Economics — Kazi Ahmed, Aaron Popp
Finance — Mehmet Akbulut, John Cross, Jeffery Jolley
Information Systems and Decision Sciences — Daniel Soper, Dawit Zerom
Marketing — Catherine Atwong, Steven Chen, Chiranjeev Kohli, Teeanna Rizkallah
Management — Lorenzo Bizzi, Atul Teckchandani
Communications
Cinema and Television Arts — Gloria Monti
Communications — Waleed Rashidi, Andi Stein, Bonnie Stewart
Human Communication Studies — Tenzin Dorjee, Minjung Kim, Summer Martin
Education
Elementary and Bilingual Education — Tim Green, Michelle Brye
Literacy and Reading Education — Julián Jefferies
Secondary Education — Ellen Kottler
Special Education — Erica Howell
Engineering and Computer Science
Civil and Environmental Engineering — Pratanu Ghosh, Phoolendra Mishra
Computer Science — Doina Bein, Mikhail Gofman, Pradeep Nair
Electrical Engineering — Jidong Huang
Mechanical Engineering — Salvador Mayoral
Health and Human Development
Child and Adolescent Studies — Janna Kim, Shelli Wynants
Counseling — Matt Englar-Carlson
Health Science — Lilia Espinoza, Maria Koleilat
Human Services — Gary Germo, James Ruby
Kinesiology — Joao Barros, Matt Llewellyn
Nursing — Rebecca Bodan, Judith Hervey, Deanna Jung, Lenny Wiersma
Social Work — Juye Ji, Dennis Kao
Humanities and Social Sciences
Anthropology — Karen Stocker
Asian American Studies — Jennifer Yee
Chicana and Chicano Studies — Gabriela Nuñez
Comparative Religion — Jeanette Reedy Solano
English, Comparative Literature and Linguistics — April Brannon, Ellen Caldwell, David Sandner
Geography — Zia Salim
History — Margie Brown-Coronel, Cora Granata, Jasamin Rostam-Kolayi
Modern Languages and Literatures — Enric Mallorquí-Ruscalleda, Setsue Shibata
Psychology — Russ Espinoza, Nancy Panza, Jennifer Trevitt
Natural Sciences and Mathematics
Biological Science — Catherine Brennan, Kristy Forsgren, Misty Paig-Tran, Nilay V. Patel
Chemistry and Biochemistry — John Haan
Geological Science — Vali Memeti
Mathematics — Todd CadwalladerOlsker, Jolene Fleming, Thomas Murphy, Matthew Rathbun, Laura Smith
University Extended Education
American Language Program — Sylvia Henel
In addition to the recognition for teaching, the following faculty members were honored as this year's recipients of the Center for Internships and Community Engagement's service-learning mini-grants. These awards are given to support collaboratively-conceived, course-related service-learning projects; inclusion of a service-learning component to a course; research or scholarships about service learning; or travel to establish service-learning partnerships or support student travel costs to participate in international service-learning courses.
Recipients are:
Lisa Draskovich-Long, theatre and dance
Ryan Gottfredson, management
Cora Granata, history
Julián Jefferies, literacy and reading education
Sara Johnson, anthropology
Jarret Lovell, criminal justice
Risto Marttinen, kinesiology
Tu-Uyen Nguyen, Asian American studies
Dennis Siebenaler, music
Ying-Chiao Tsao, human communication studies
Chris Ruiz-Velasco, English, comparative literature and linguistics