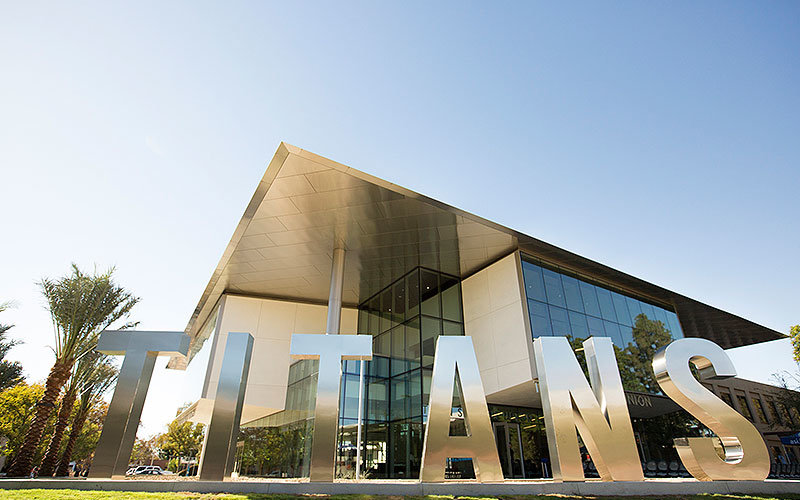 Students, administrators, faculty and staff joined in the Thursday, Oct. 20, festivities in honor of the latest expansion of the Titan Student Union.
Visitors can now lounge on the grand staircase, share a coffee in expanded gathering areas, discuss a school project in one of the new meeting rooms, or just watch a bit of the campus go by from wall-to-ceiling windows — just a few of the features incorporated into the additional 27,000 square feet added to the 40-year-old structure during approximately two years of construction.
Campus members were offered tours, free food and music before an official welcome by Dave Edwards, executive director of the Titan Student Union, who introduced a number of former ASI leaders and TSU directors and administrators in the audience.
President Mildred García also welcomed the crowd. "I'm so honored and pleased to welcome you to our expanded TSU, our campus living room."
"I've been looking forward to this day since the fences first went up," said Yanitza Berrios, president and CEO of Associated Students Inc. "The day has finally come when we are able to enjoy this new expansion and make it our own."
The expansion offers natural lighting entering from skylights on the second floor over the new south side entrance, creating a large atrium area that traverses the grand staircase and all three floors of the student union.
On the basement level, the east patio plaza has been expanded and now features glass-enclosed areas for drop-in classes or meetings. Still available is the bowling alley and game room.
In the works is the establishment of a Starbucks facility that is expected to open in the spring, and expanding the game room to include e-gaming. Students currently can connect to wi-fi to play via their laptops or use an available Xbox.
"The goal was to not only add much-needed public-use space, but also to create a space that would be fun and lively for students and other campus members and visitors to enjoy and use," said Carol McDoniel, TSU director of administration, who spearheaded the 18-month construction effort with Drew Wiley, Associated Students Inc. director of leader and program development.
Stephen Chamberlain, senior project management in the Office of Capital Project Management, agreed. "It alleviates crowding in the dining areas and improves overall circulation in the building."
The expansion also incorporates a number of sustainable design features, such as the use of California native plants to reduce the demand for potable water and use of pesticides, high-performance glazing on windows, energy-efficient light fixtures and lighting controls and water-conserving plumbing fixtures. "These features and others have helped this project meet a minimum of LEED silver equivalency," noted Chamberlain.
The TSU was last renovated in 1992, when the building was expanded to 140,000 square feet. The latest expansion was designed to serve a student population of more than 40,000 and funded from the Titan Student Center fee charged to all students as part of their tuition fees.