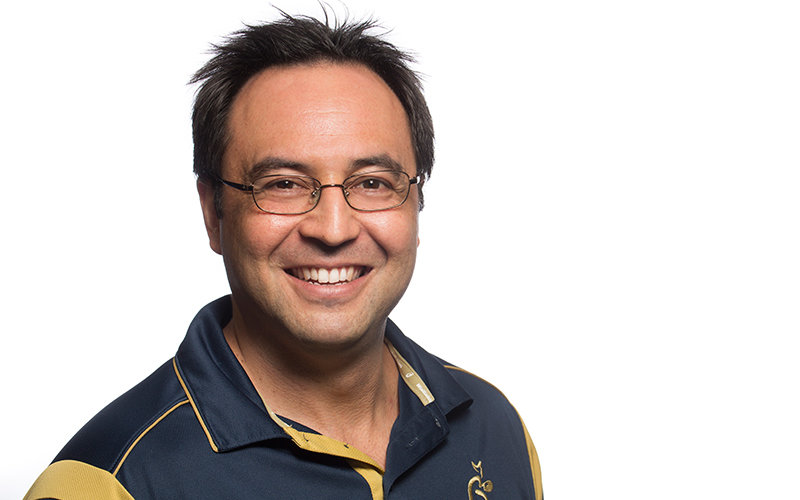 Much of Robert Lockie's research focuses on analyzing speed and acceleration performance in field sport athletes. Bringing his passion for exercise and sport science to campus this fall, Lockie joins Cal State Fullerton as an assistant professor of kinesiology.
Lockie hails from Australia, achieving his doctorate in biomechanics, strength and conditioning and his bachelor's degree in human movement studies from the University of Technology, Sydney.
What inspired you to go into the field of kinesiology?
I was interested in sports performance and enjoyed doing research. While completing my doctor of philosophy degree, I had the opportunity to lecture several classes and enjoyed that experience. I liked the idea of having a job where you could spend most of your days talking about sport and training, while also being able to investigate aspects of athletic performance that interest you.
What are your research interests?
My research interests started with investigating linear and change-of-direction speed in athletes, both from a technique and training perspective. I have also branched out into investigating the potentiation of linear and change-of-direction speed.
In addition to this, I have worked with athletes from a number of different sports, including soccer, basketball, cricket, rugby league, rugby union, sailing and American football. These projects have involved profiling athlete groups, investigating specific physiological characteristics and injury prevention studies. More recently, I have analyzed the mechanics of certain strength exercises.
How do you engage students in your classes and/or research?
I try and make my classes as practical as possible, so students can see the real-world application of what they are learning. Encouraging class discussion also is important, as this helps with student engagement and camaraderie.
I use of lot of media to change the stimuli during class, as this helps to provide practical examples of what we are covering. Incorporation of the research that I do into my classes is very useful, as it shows the students what I do and what is available for them as interns or graduate students.
What changes do you envision in your field five years from now?
I think the use of technology to track athlete workloads and movement patterns will continue to increase. Exercise trends will continue to come and go, and more and more sports will recognize the value of sport science and performance analysis.
Name one thing you do to stay healthy.
I enjoy lifting weights. If you're going to teach and write about it, you may as well do it!
See the complete list of new tenure-track faculty members joining CSUF this fall.