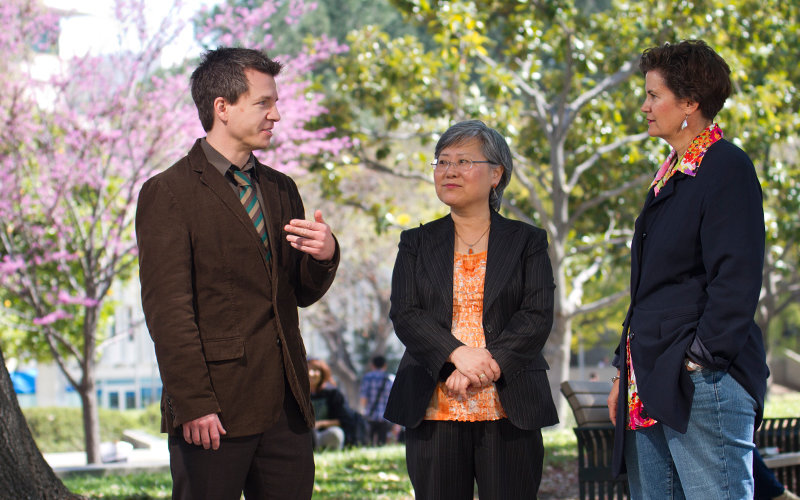 Across Cal State Fullerton, faculty members are getting together on a regular basis as part of small, faculty learning communities focused on diversity and inclusion. The communities were created to share knowledge, skills and ways of working on a campus that prides itself on being inclusive and understanding of its diverse population.
"We meet to become better campus citizens, to be responsive to the needs of our students and each other," says Matt Englar-Carlson, professor of counseling, director of the Center for Boys and Men and the Faculty Development Center's coordinator for diversity and inclusion.
"Our community members come from across the campus. New faculty members embrace us as a way to learn more about the campus. Those who have been here longer, join in to be more responsive and to expand their knowledge on what it means to be more culturally competent," he explains.
"I started going to the Friday learning communities simply because I had questions and was confident that other people had answers," says John Gleaves, associate professor of kinesiology. "As an instructor, bringing up topics around race, gender, sexual orientation, etc., is risky and difficult. Many people, including teachers and students, are very cautious about these topics because they don't want to say anything that accidentally offends someone. Add to it the unique challenge of having to teach on these topics can make things even more difficult … I wanted to learn how to do this better."
Established three years ago, the learning communities cover a wide range of issues — from having difficult conversations about diversity to learning how to be more inclusive in a classroom with students diverse in race, ethnicity, gender and spirituality. This fall, Englar-Carlson notes, the learning communities are focusing on Latin American immigration and the journey of first-generation students.
"What I discovered was that the learning community was less about someone 'teaching teachers' but more about professors working together to co-teach and co-learn," adds Gleaves. "It was at times a support group, a research team, an exploration.
"It helped that we naturally had such diverse faculty in the room who could speak from so many different perspectives," he explains. "It also helped that people were willing to share their challenges because often other faculty had experienced similar issues. Then discussing ideas as a group really helped me digest and process these complicated topics."
"This is what is so good about learning communities," says Englar-Carlson. "We are all teachers, no matter what the subject or class level, and we all face these and other issues in our interactions with each other. How do we build cultural empathy? What's it like to be a student athlete and first-generation college student? Who are our students? What identities do they bring into our classrooms?"
"It's been a great opportunity for faculty to be able to give voice to issues that aren't always talked about as much as retention and graduation. And to know that, as a result of these learning communities, we have allies across the campus.
"Those who take part in these communities do so to be a part of something — part of a movement that ultimately helps them and their students," he adds.