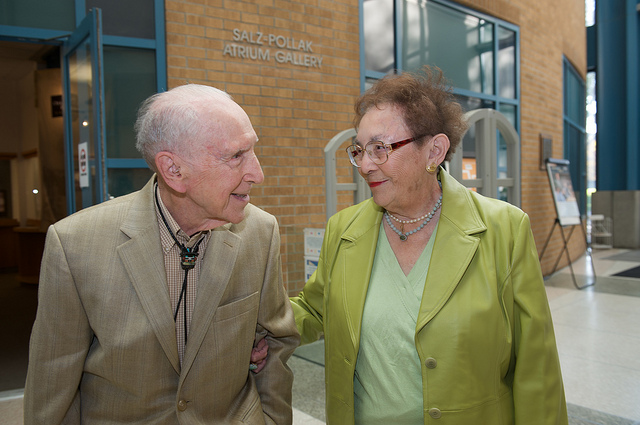 George Pollak, one of Cal State Fullerton's earliest major donors, died November 16. Pollak's name, alongside that of his wife, Paulina June Pollak, professor of English and comparative literature emeritus, graces the name of the University's library.
At the time of their gift in 1998, the Pollaks' donation was the largest in Cal State Fullerton's history, and was used to create the library's first collection endowment. The couple is also credited with making the first planned gift to the "It's Our University" campaign, where faculty, staff and emeriti were encouraged to support the University's philanthropic efforts. The Pollaks were "Gold Legacy" honorees of 2007 at the University's "Legends & Legacies" donor recognition gala.
For more than 28 years, George worked for the Department of the Navy, retiring in 1984 as head of the Management Assistance Office, Central Staff, Naval Ocean Systems Center in San Diego. He supported the University as chair of the College Federal Council and as a member of the Patrons of the Library Board of Governors. In 1996, he and June were recognized by the University as Volunteers of the Year. 
In 1992, through the University's faculty-staff fundraising campaign, the couple donated a Laguna Hills townhouse valued at $165,000. Proceeds from the sale were allocated as a charitable remainder trust to the library and other departments and programs. In 1998, the Pollaks established a further $1 million charitable remainder trust to benefit the library.
Memorial services are pending.