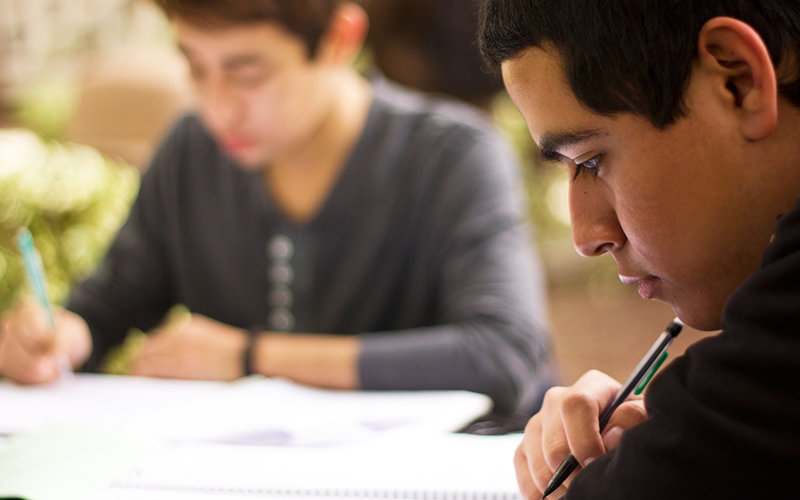 It's that time of year when students are reviewing notes and reading the last chapters in their textbooks in preparation for finals week. And Cal State Fullerton is on board to help them succeed, offering extended hours and activities to keep students sharp and motivated.
The Pollak Library hosts 24/7 Study beginning at 7 a.m. Dec. 5, through 9 p.m. Dec. 16, thanks to the support of Student Success Initiative funding. TitanCards will be required for building access between midnight and 6:30 a.m.
Also open 24 hours a day from 7 a.m. Dec. 5 to 5 p.m. Dec. 16 is the Titan Student Union. Students will have access to individual and group study spaces, free Wi-Fi and public computer stations.
All Night Study, a biannual program of Associated Students Inc., runs through the same time period with a series of events and giveaways. This year's theme is "All Night Things," based on the Netflix program "Stranger Things."
Scheduled activities include:
Dec. 5 and 12 — Study giveaways, while supplies last, beginning at 10 p.m. in the TSU Portola Pavilion
Dec. 12 — Back and neck massages will be offered in the TSU Fireside Lounge from 11 p.m. to 2 a.m.
Dec. 13 — Puppies and pizza will be available from 1-3 p.m. in Becker Amphitheater and "Paint the Night" from 10 p.m. to midnight in the TSU Underground Pub
Dec. 14 — Breakfast burrito giveaways from 9:30-10:30 a.m. and "Late Night Breakfast" from 10-11 p.m., both in the Pub
Dec. 15 — "Taco Tag" from 7-9 p.m. in the Student Recreation Center
Titan Bowl & Billiards will be open continuously from 9 a.m. Dec. 12 through 5 p.m. Dec. 16. From 10 p.m. to 5 a.m. those days, students can play billiards, bowling, table tennis and foosball for free.