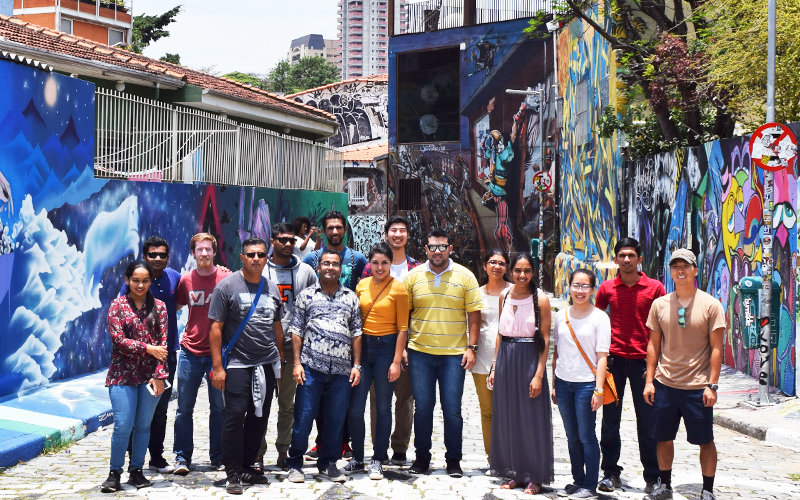 Studying abroad in Brazil, Yuliana Carrillo imagined what is possible. It opened her eyes to opportunities she never thought of pursuing and exposed her to a culture and welcoming people who uplifted her.
It was the first time the future civil engineer had traveled to another country outside of North America. She made new Brazilian friends, toured a beverage manufacturing plant, attended a lecture on recycling technologies and visited an orphanage.
The learning experience during Thanksgiving break also introduced Carrillo to different career opportunities within the engineering disciplines, including those out of the country.
"I also met professionals who inspired everyone to do well in school and follow their career goals," she said.
Carrillo was among 15 undergraduate and graduate-level engineering and computer science students who traveled to the state of São Paulo to the Universidade Estadual Paulista, Sorocaba campus, for the International Symposium on Engineering Research. The Nov. 21-25 program was funded, in part, by a "100,000 Strong in the Americas Innovation Fund" grant, with support from the College of Engineering and Computer Science and the Office of International Programs and Global Engagement.
"The biggest benefit for students is that it broadens their horizons of engineering practice and engineering education in a global context, which is often difficult to visualize in a classroom setting," said Beena Ajmera, assistant professor of civil and environmental engineering, who co-led the group of students.
"Programs like this have a substantial impact in helping students improve both their technical and soft skills, increase their success as professionals in a world that is becoming increasingly collaborative, and in communities that are very diverse."
Faculty co-leader Binod Tiwari, professor of civil and environmental engineering and director of the International Symposium on Engineering Research, added that collaborating with peers from another country also broadens their insights about the world.
"Moreover, understanding culture of another country is always important for students' personal growth," he added.
During the weeklong program, CSUF students presented their research projects to their Brazilian counterparts, while getting the chance to attend research presentations made by 10 Brazilian professors and industry leaders on various sectors of STEM education.
"These presentations not only exposed our students to different branches of engineering, but also how these branches are interconnected and co-dependent," noted Ajmera. 
Students also toured large-scale manufacturing companies — including a plant that makes parts for windmills to generate energy — to help them to understand the globalization in manufacturing industries, and attended lectures on topics such as sustainability and Brazilian energy sources.
Mathematics major Trini Nguyen, who is minoring in computer science and aspires to become an applied mathematics professor, said the experience gave her insight into careers she hadn't considered.
"Aside from learning how the rest of the world operates in your field, participating in study- abroad programs allows you the chance to go outside your comfort zone and learn what you are capable of doing," said Nguyen, a scholar in the Maximizing Access to Research Careers (MARC) program.