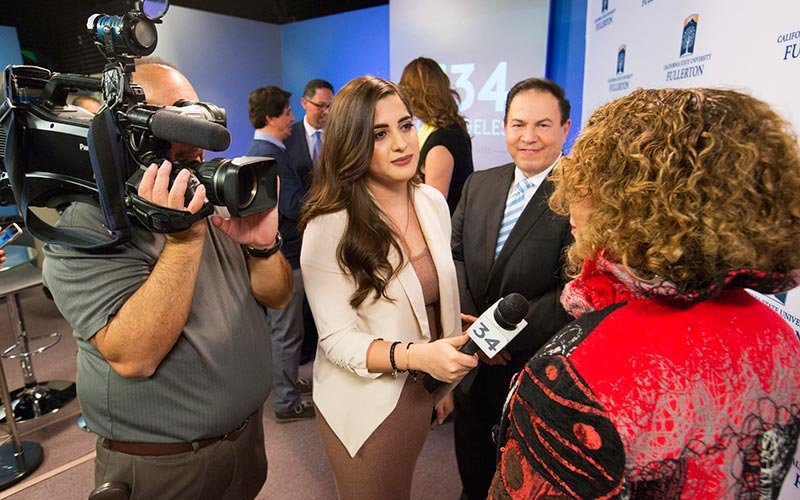 Cal State Fullerton celebrated a new partnership with Univision at a Thursday ribbon-cutting to open the Cal State Fullerton Univision Bureau.
The link continues efforts by CSUF's Latino Communications Initiative to boost College of Communications students' access to success and creates an on-campus news bureau for the Los Angeles news group, connecting bilingual students with professional mentors and internship opportunities as well as the network's news feed for student news programs on "OC News" and "Al Día." 
Dozens of University officials, alumni, local politicians and excited students attended the afternoon ceremony welcoming the public to tour the new bureau in the lower level of the Pollak Library. Several Titan graduates now employed by Univision also attended.
"As a Hispanic-Serving Institution, and No. 1 in California in graduating Latinos with bachelor's degrees, I am so very proud that this partnership is here at Cal State Fullerton," President Mildred García told the group.
Luis Patiño, Univision's senior vice president and general manager of Univision Local Media Group in Los Angeles, touted the connection as the beginning of great opportunities for students to learn and teach, to empower and inform the Latino community.
"Now, you'll be forming a great part of that. You will do it together with us, we will do it with you by our side, and we couldn't be more excited," he told the group.
Rebeca Fausto, a senior studying broadcast journalism, said she's eager to learn from Univision reporter and anchor Francisco Ugalde, who will work from the on-campus hub. "It will give us an advantage. We will have those new skills and the networking circle as well," she said.
The new connection also makes it possible for the University to share with local Univision viewers campus presentations by Latin American leaders, Hispanic academics, policymakers, artists, journalists and visiting scholars.
"We are so looking forward to this partnership. I can't wait to see what happens as it grows over the years," said Scott Paynton, dean of the College of Communications.