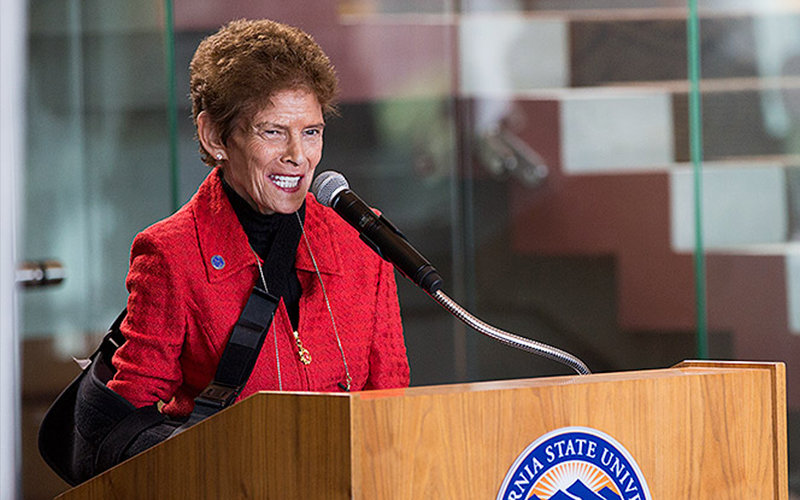 Cal State Fullerton's College of Education hosts its annual "Honor an Educator" event Sunday, March 5, to recognize local K-12 teachers and other educators who have made a difference in the lives of their students and communities.
The 6-8 p.m. dinner and ceremony is open to the public and raises scholarship funds for the College of Education's teacher preparation and graduate students. In addition to the educators honored, the college recognizes its partners in education.
The 2017 "Distinguished Honorees" are:
Distinguished Education Leadership Award — Joan S. Bissell, director of teacher education and public school programs,
 Office of the Chancellor, California State University;
Distinguished Alumni of the Year Award — Heather Bosworth, CSUF alumna, '06 '09 (B.S. child and adolescent development, M.S. education-reading), principal of Sycamore Elementary School, Orange Unified School District; 

Distinguished Education Partner Award — Kristin Crellin, CSUF alumna, '95 (B.A. history), vice president of school and community relations, SchoolsFirst Federal Credit Union;
Distinguished Alumni of the Year Award — Leslie Hiatt, CSUF alumna, '88, '89 (multiple subject credential, M.S. education-elementary curriculum and instruction) a fifth grade teacher at Bell Gardens Elementary School, Montebello Unified School District;

Distinguished Education Excellence Award — Placentia-Yorba Linda Unified School District; and 
 
Distinguished Education Community Partner Award — Teacher Created Materials, an Orange County company that publishes supplemental educational resources in all areas of the curriculum. 
Tickets are $55 each; $125 for two tickets and recognition of one honoree. Tickets and sponsorships for the dinner and ceremony are available until Wednesday, Feb. 1, and can be purchased online. For more information, contact Sandra Chavez or 657-278-7617.