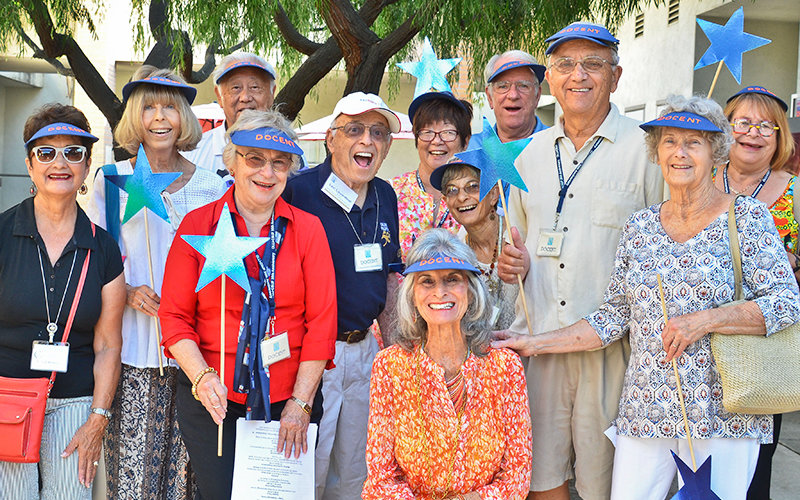 Committed to offering exciting learning opportunities for active adults ages 50 and up, Cal State Fullerton's Osher Lifelong Learning Institute (OLLI) recently released its spring 2017 "Blue Book." The catalog is available online and features more than 140 upcoming classes and activities.
In addition, OLLI will host a 10-11:30 a.m., Saturday, Jan. 7, preview meeting of its programs in Mackey Auditorium of the University's Ruby Gerontology Center, 800 N. State College Blvd. in Fullerton.
Returning this spring are OLLI's popular Eclectics series. The free, public talks feature the expertise of several CSUF faculty members.
Jan. 24 to April 11 — Eclectics I
The Eclectics I series is offered on alternate Tuesdays from 10-11:30 a.m. in Mackey Auditorium.
Jan. 24 — "Martial Arts and Warfare" by Andrea Molle of Chapman University
Feb. 7 — "Did America's Endangered Center Stand a Chance After the 2016 Elections?" by Benjamin J. Hubbard, CSUF professor emeritus of comparative religion
Feb. 21 — "The Cyber Tsunami" by Kimberly Pease of Citadel Information Group
March 7 — "Dancing, Choreography and Teaching" by Alvin Rangel-Alvarado, CSUF associate professor of dance
March 21 — "Terrorists of the National Revolution: Vichy and the Assassination of Marx Dormoy in 1941" by Gayle Brunell, CSUF professor of history
April 11 — "Free Speech and Inclusivity on College Campuses" by Jason Shepard, CSUF chair and associate professor of communications
Jan. 19 to April 6 — Eclectics II
The Eclectic II series is offered on alternate Thursdays from 12:30-2 p.m. in Mackey Auditorium.
Jan. 19 — "Language Rights" by Bonnie Williams, CSUF assistant professor of rhetoric and writing
Feb. 2 — "An Update of the Affordable Care Act" by Shana Alex Charles, CSUF assistant professor of health science
Feb. 16 — "Aging and Stress" by Jennifer Piazza, CSUF assistant professor of health science
March 2 — "Using Supercomputers to Simulate Merging Black Holes in the Era of Gravitational-wave Astronomy" by Geoffrey Lovelace, CSUF assistant professor of physics
March 16 — "Climate Change Action" by Kyle D. Brown of Cal Poly Pomona
April 6 — "Investigation of Food Fraud using DNA Testing" by Rosalee Hellberg of Chapman University
For more information, contact OLLI at 657-278-2446 or olli-info@fullerton.edu.