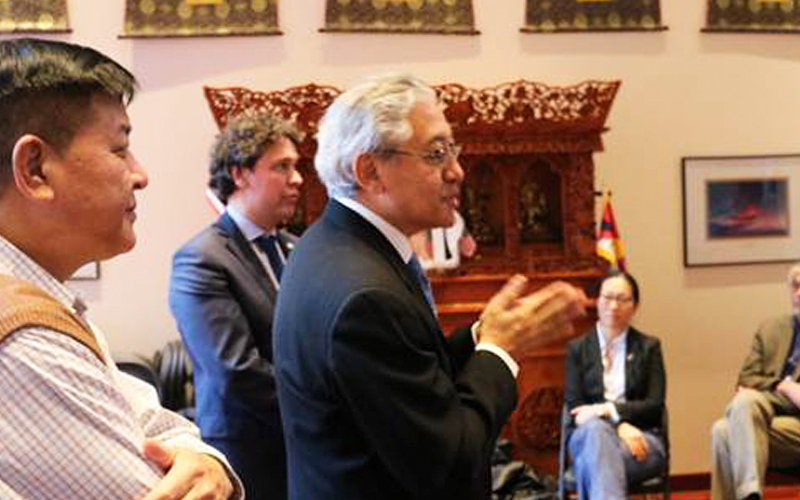 CSUF faculty members and undergraduate and graduate students recently presented research and papers at commission meetings and conferences across the country. One College of Communications faculty member will deliver a keynote lecture at the California African American Museum, in Los Angeles, next month.
Tenzin Dorjee, associate professor of human communications studies, recently returned from Washington, DC, where he participated as a member of the U.S. Commission on International Religious Freedom. He was honored at a Jan. 18 reception and discussion on "The State of Religious Freedom" by the International Campaign for Tibet and Office of Tibet as the first Tibetan American to be appointed to the commission.
Anthony Sparks, assistant professor of cinema and television arts, will speak Sunday, Feb. 19, at CAAM in Exposition Park. The two-hour program, "Truth to Power: African American Comedians and Social Commentary," begins at 3 p.m. Sparks, a screenwriter and television producer, says his lecture is inspired by audio clips featured in the museum's current exhibit "Hank Willis Thomas: Black Righteous Space," and explores how groundbreaking African American comedians used writing, performance and humor to bring topics of race and social justice to the public conversation. 
Yuying Tsong, associate professor of human services, served as programming coordinator for the National Multicultural Conference & Summit's 10th biennial "Looking Back to Move Forward" Jan. 4-6 in Portland Oregon. Among the conference presenters were:
Counseling graduate student Karla Martinez and Mia Sevier, professor of human services, "Mentoring Latino College Students."
Senior human services major Ariana Romero and Sevier, "The New Majority: Finding Connections in Undergraduate Peer Mentoring."
Counseling graduate student Vi Pham '15 (B.A. psychology), undergraduate psychology majors Phuong Nguyen and Ngan Nguyen, and Tsong, "Vietnamese American Older Adults Mental Health Belief, Knowledge and Help Seeking."
Jessica Liu '15 (M.S. counseling-marriage and family therapy) and Tsong, "Gender Differences in Chinese and Taiwanese American Older Adults' Attitudes About Mental Health and Help Seeking." Liu, now a graduate student at Lehigh University, also coauthored the presentation "Difficult Dialogues: Feeling Othered in Your Own Space: Causes, Consequences and Manifestations of Oppression." She chaired a roundtable session and coauthored the paper "It's Not Easy Being an Asian Family in the United States: Generational Challenges Amongst Asian American Families."
Joann Yang '15 (M.S. counseling-marriage and family therapy) and Tsong, "Mental health Literacy and Help-Seeking in Cambodia."
Jesse Battan, professor of American studies, delivered a paper titled "'Freedom Does Not Mean Joy': Sexual Revolutions and the 'Flight From Feeling' in Early 20th-Century America" during the Dec. 15-16 international conference on "Failing at Feelings: Historical Perspectives (1800-2000)" at the Center for the History of Emotions at the Max Planck Institute for Human Development in Berlin.
At the November UNESCO Symposium in Paris, Binod Tiwari, professor of civil and environmental engineering, attended meetings as a board member of the UNESCO-sponsored International Consortium on Landslides and as a volume editor of the Fourth World Landslide Forum slated in May. Tiwari also presented a paper on his landslide research related to the April 2015 Gorkha earthquake in Nepal. Beena Ajmera, assistant professor of civil and environmental engineering, and civil engineering graduate student Brian Yamashiro co-authored the paper.