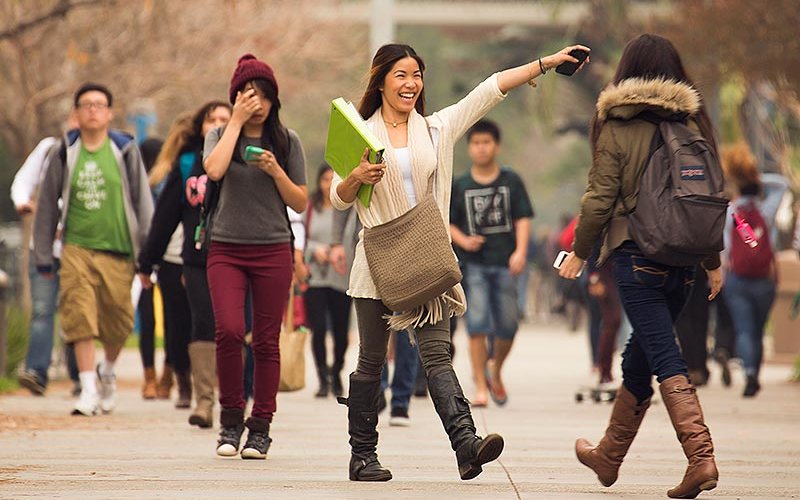 Cal State Fullerton kicks off spring semester classes beginning Saturday, Jan. 21.
Parking? The University has come up with a number of options to help alleviate the crunch during the first four weeks of the semester, including off-site overflow parking and a shuttle service. More about the spring choices for faculty, staff and student commuters is available here.
Students also have more options to secure textbooks and course materials. In addition to renting and buying new/used textbooks, Titan Direct Access, offers digital versions of course materials, including eBooks, for students through the campus portal and TITANium. Opening enrolllment is a projected 38,375 students.
New Program Concentrations
Starting this semester, the Linguistics Program is offering courses for new concentrations in its graduate program — language and mind, and language and society.
Certificates
The College of Communications and the Department of Modern Languages & Literatures is offering a Spanish for Hispanic media professional certificate designed to improve the Spanish language skills of bilingual students and their cultural competency as it relates to the U.S. Latino population.
Changes
Effective earlier this month, Admissions and Records moved from the Division of Academic Affairs to the Division of Student Affairs. Nancy Dority remains as assistant vice president of enrollment services under Darren Bush, interim associate vice president for student affairs.
Activities
For students looking for relaxation between classes, the Titan Student Union is offering free billiards every Tuesday afternoon, $1 bowling every Wednesday and All You Can Bowl for $2.50 Thursdays beginning Jan. 24 (not available during spring break). The fun begins in the Titan Bowl & Billiards on the lower level of the TSU.
The Associated Student Productions Thursday Films Series kicks off Jan. 26 with Disney's "Moana" at 4, 7 and 10 p.m. in the Titan Student Union's Titan Theatre. Other activities include creative writing classes, beginning Feb. 6.
Students interested in staying fit can check into the Titan Recreation Center for a number of programs and classes, including first aid. Intramural sports leagues in basketball, volleyball, soccer, badminton and other sports are being offered; registration begins Jan. 23 with lead action in February.
Project Rebound, a CSUF program that is part of a statewide effort to expand college access for formerly incarcerated individuals, holds an open house for its new office from noon to 4 p.m. Wednesday, Jan. 25, in Room 647 of Langsdorf Hall. More information available on the program website.
Student Life and Leadership holds Discoverfest, 11:30 a.m. to 1:30 p.m. Feb. 1 and 2 offers students an opportunity to learn more about the campus including clubs, organizations and programs to enhance the educational experience. Various booths will be located along the walkway from the Pollak Library to the Titan Student Union.
Interested in what the Pollak Library Special Collections holds? A new exhibit, "California as an Island and Worlds That Never Were" showcases a selection of maps from the Roy V. Boswell Collection for the History of Cartography. The exhibit opens Sunday, Jan. 22, and continues through March 29.
The Asian Pacific American Resource Center hosts a Jan. 24  tea-time program from 4-5 p.m. with new center coordinator Jacob Chacko, plus game day fun from 9 a.m. to 7 p.m. Jan. 25, and a clubs and organizations meet-and-greet from 4-5 p.m. Jan 26. All will be held in University Hall Room 211B.
Opening enrollment for the spring semester is an estimated 39,375 students.
Opening enrolllment is a projected 38,375 students. – See more at: http://a.cms.omniupdate.com/files/content?site=News&path=%2F2017wi%2FSpring-Semester-Begins.pcf&target=News&edit=true&nonce=1485315938300#sthash.YJHGUKuc.dpuf
Opening enrolllment is a projected 38,375 students. – See more at: http://a.cms.omniupdate.com/files/content?site=News&path=%2F2017wi%2FSpring-Semester-Begins.pcf&target=News&edit=true&nonce=1485315938300#sthash.YJHGUKuc.dpuf