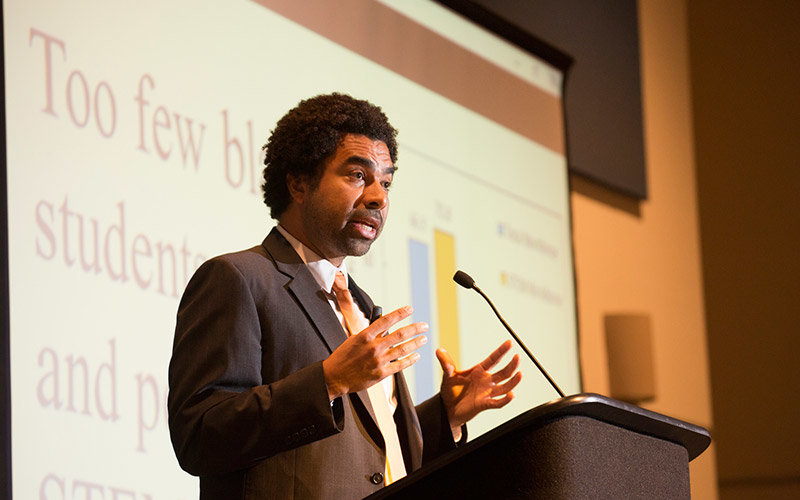 "Celebrating Black Scientists" was the theme of Cal State Fullerton's Black History Month Reception, hosted by President Mildred García Feb. 7 in the Titan Student Union.
"We applaud the African-American men and women, who despite systemic racism, were able to achieve this country's greatest breakthroughs in the field of science, medicine, astronomy and beyond," said García in her opening remarks.
"Now it is our turn to celebrate those legacies, stand on their shoulders and as Titans, reach higher to be the change we wish to see on campus, throughout this great nation and the entire world."
García paid tribute to the late Jewel Plummer Cobb, CSUF's president emeritus and professor of biology — recognizing her legacy as a world-renowned cell biology and cancer researcher and the first African-American woman to lead a major university on the West Coast.
Joel K. Abraham, associate professor of biological science, served as the event's keynote speaker. His talk examined the need to address the underrepresentation of blacks in science, technology, engineering and math (STEM) from an anti-deficit model.
"Too few of our students are choosing STEM majors, and too many of our students who have chosen a STEM major end up leaving it before graduation," said Abraham. "Those who do stay too often face direct or implicit bias that hinders their advancement.
"But focusing solely on the failures of individuals in a group ignores or minimizes the successes experienced by the group members," he said. "This leaves us with a poor or incomplete understanding of the behaviors and external factors that can contribute to success."
To better understand the factors for success, Abraham conducted interviews with several students and scientists. Many interviewees, he shared, highlighted the importance of explicit, sustained mentorship and of community.
Echoing García's call to "be the change," Abraham vowed to dedicate his own resources to promoting inclusivity on campus.
"I'm going to put real effort into changing my own behaviors," he said. "I've been a mentor for many students — which is something I really value — but if I'm honest in reflecting about my mentorship, sometimes it's been passive.
"I need to work harder to scout mentees; I need to be more structured in how I identify and distribute opportunities; and I need to encourage students to take that extra step to apply for that scholarship, to apply to that research lab, to apply to that summer program."
He continued, "If you're a student in STEM, I want you to know that I see you and I want to help you. If you're a student or a staff member at CSUF, I promise to work to be a more visible member of our community. If you're a pre-tenure faculty member, all the resources that I have are also yours.
"To everybody else, if you have ideas on how to support true diversity and inclusivity on campus, I'm in."
The reception featured several student performances, including a rendition of Donny Hathaway's "Someday We'll All Be Free" by theatre arts major Christopher Mosely and a dance ensemble of students Asia Scott, Camille Saye, Iman Ainsworth, Kafila Ahmed, LaTianna Wallace and Tari Apreala.
Taylor Thornton, a biological science major and aspiring veterinarian, received a standing ovation for her spoken word performance narrating her journey as a "Black Girl Scientist."
The African American Faculty and Staff Association, led by Gregory Chris Brown, associate professor of criminal justice and master of ceremonies, invited the crowd to sing "Lift Every Voice and Sing" by James Weldon Johnson.
Tyler Parry, assistant professor of African American studies, announced the winner of this year's Black History Month essay contest and a $500 scholarship: Jonathan Phillips, a communications and art double major, for his essay on astrophysicist Neil deGrasse Tyson. Phillips' mother and CSUF staff member, LaTanya Henderson, accepted the award on his behalf.