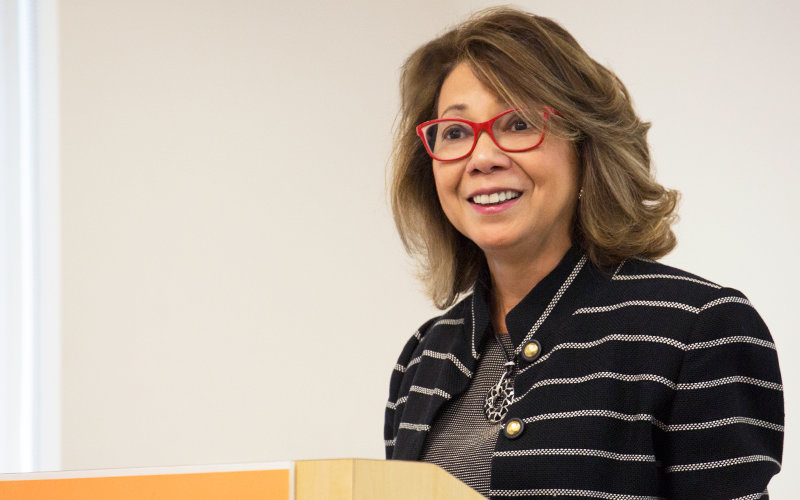 President Mildred García recently served as the keynote speaker at the opening plenary address at the American Association of State Colleges and Universities (AASCU) conference in San Diego.
"At Cal State Fullerton, where more than half of our 40,000 students are underrepresented, first-generation, and/or low-income students, our mission statement and other similar vision statements contain the following language," she said. "We seek to create an environment to enable the academic success of our students and the University's efforts to address the needs of our region, engage our alumni, serve as an exceptional educational and cultural resource for our community and promote a global outlook."     
While acknowledging that the core principles in this mission statement were not unique to CSUF, she reminded those in the audience that "we all need to share in the collective commitment to protect our national security while at the same time enriching our nation with invaluable contributions from abroad."
Garcia also pointed out that institutions of higher learning are not alone. In the wake of President Trump's executive order, many citizens rose up in protest, including those living in the heartland.
"But we don't need signs to tell us our students are exercising their right to protest," she continued. "We can just look at the protestors. Some are dancing. Some are chanting. In many cases, this looks like the quads at our universities; these are our students and they are doing what we, as educators, have empowered and encouraged them to do."
To that end, college campuses may soon become the springboards for these demonstrations. She encouraged those in attendance at the AASCU conference "to reach out to students from the seven banned countries, the DACA students, the LGBTQ students, students who are active in the Black Lives Matter movement, women, veterans' groups, all underrepresented students and low-income students, including low-income Caucasian students."
She spoke about receiving a flurry of emails from concerned students who were affected by President Trump's executive order and read one of them aloud:  
"Hello, President García. I am a graduate student in computer science and I am completing my last semester at Cal State Fullerton. Four years ago, I came to America to follow my dream and pursue an American education. I was born to Iranian parents and grew up in Dubai. During this journey, I have had my fair share of ups and downs. But here I am now, a few months away from graduation, with my future in America being in complete jeopardy, just because I hold a passport from a country that I never lived in. Now I have to deal with the constant fear that I would be turned down for a potential position just because the companies that are interviewing me would not want to deal with repercussions or hurdles of hiring someone who happens to be a holder of a passport from a country that is on the new administration's ban list. I would appreciate it if you could advise how and where I could seek help at school."
"As the daughter of two migrants, these letters break my heart," she said. "And as we look to lead our universities and colleges in this new era, the onus is on us to protect these students as much as we can, encourage them to share their voices, and ensure their academic goals and life dreams are not broken. This equally applies to our DACA students who now fear loss of funding, being outed or even deported by this new administration.
"The bottom line is this," she said. "The United States has long benefitted from scientific, cultural and economic contributions from diverse and international students and scholars. America's state colleges and universities have been strengthened by the presence of students and faculty from around the globe, including those from the seven countries specifically targeted by President Trump's executive order. We share in the collective commitment to protect our national security while at the same time enriching our nation with invaluable contributions from abroad.
"We must do everything in our power to respectfully articulate our students' concerns to our local and national elected officials," García continued. "We must be in constant communication with our faculty, staff, students and constituents to not only have our finger on the pulse of the community, but proactively lead all those we represent in voicing their concerns in a peaceful manner. We must support our students in being respectful of others' opinions and responsible in voicing their own."
But dealing with diversity in turbulent times isn't the only pressure that universities must address.
"At Cal State Fullerton, like many of you, we are 'doing higher education's heavy lifting with the least amount of resources,'" she explained. "Universities are a conduit to the American Dream; it also underscores the importance of our ability to navigate the ever-evolving obstacles that we face. Less than 10 years ago, nearly 65 percent of Cal State Fullerton's operating budget came from the state. Today, less than half that amount, 31 percent, comes from the state and we're serving 5,000 more students.
"Cal State Fullerton and its sister campuses were given a set of goals from our governor and outlined by the Chancellor's Office in the Graduation Initiative 2025. Over the past four years, we either hit or exceeded all those goals — some two years before the due date," García explained.
"But before we could even celebrate this success or be rewarded with more funding, the goal posts were moved by the governor, state assembly and senate, who asked that we now push to increase four-year graduation rates. This is often difficult as the majority of our students work at least one full-time job, are raising families and must contribute to the household income.
"Nevertheless, we will help our students hit these goals, but not at the expense of our high academic standards.
 "Now let's get to work and plan our next steps in protecting higher education for all."