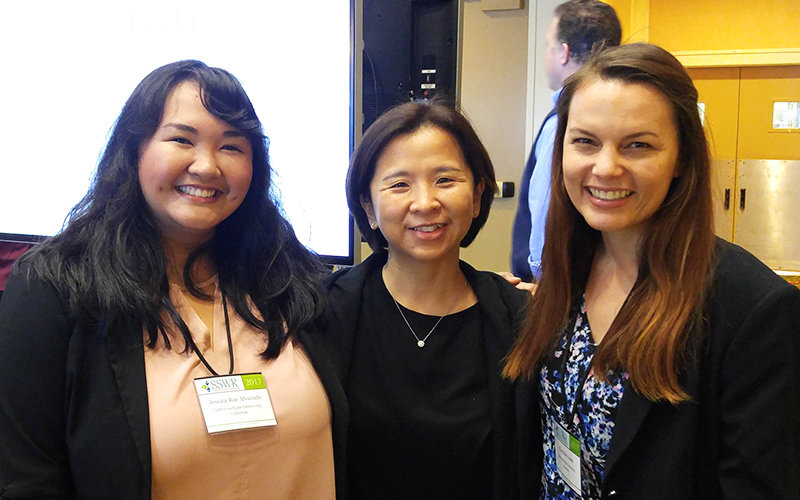 Two CSUF faculty members and graduate students from the master of social work program, were among presenters at recent conferences held in Anaheim and New Orleans.
Scott Lynn, associate professor of kinesiology and golf biomechanics researcher, lent his expertise to the Jan. 24-27 PGA Education Conference at the Orange County Convention Center. Lynn delivered a teaching and coaching seminar that focused on how to determine the dominant power source in a golf swing.
Juye Ji, assistant professor of social work, and recent graduates of the master of social work program presented their research at the Jan. 11-15 Society for Social Work and Research annual conference in New Orleans, including
"Factors Impacting Perceived Control and Depression in Older Adults of Diverse Racial/Ethnic Groups" — presented by Jessica Rae Alvarado
"A Longitudinal Study of Social Support and Mental Health Among LGBT Transitional Aged Foster Youth" — presented by Elora P. San Juan
"Effects of Culture and Family Involvement on Substance Use Among Native American Adolescents" — presented by  Ji and co-authored by Ashley Lopez-Weissbuch
In addition, 60 CSUF students and Vincent T. Harris, director of the University's Male Success Initiative, attended the Jan. 13-16 Afrikan Black Coalition Conference at Cal State Long Beach. The statewide conference addresses social and political issues facing the community through peer and professional workshops, keynote speakers and social activities.