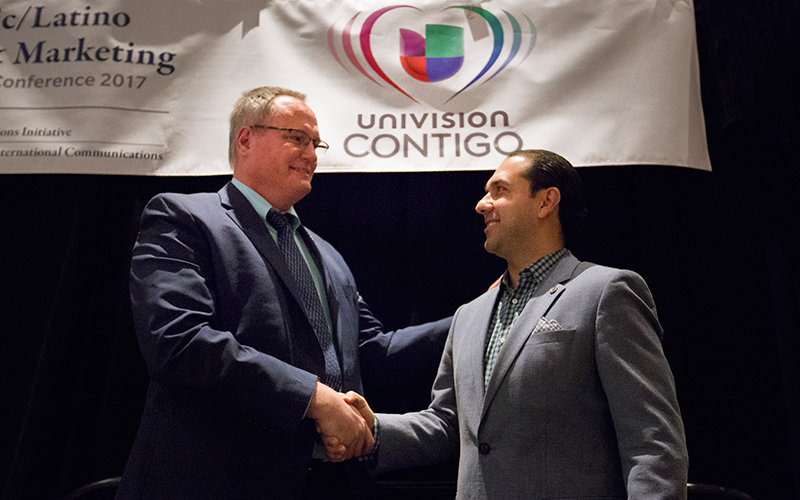 Univision Communications Inc. announced on Friday that it will partner with Cal State Fullerton's College of Communications and Latino Communications Initiative (LCI) as part of the media company's Contigo community program.
The announcement was made during lunch on the second day of the Hispanic/Latino Media and Marketing International Conference on campus, which Univision sponsored.
"Celebrating diversity will also be a focus of Univision Contigo's initiatives and will include a yearlong campaign highlighting positive role models and images within our community that embrace the culture and identity of our diverse communities," Luis Patiño, Univision's senior vice president and general manager of Univision Local Media Group in Los Angeles.
The new partnership is a continuation of diversity in media initiatives Univision began last year. With its new evolution, Univision is committed to promoting science, technology, engineering, arts and mathematics education and opportunities that target diverse communities and focus on helping students advance their careers.
In November, Univision, the College of Communications and LCI linked to create the Cal State Fullerton Univision Bureau in the Pollak Library. The bureau gives students access to broadcast professionals and mentors, along with the company's news feed for CSUF's student-produced news programs on "OC News" and "Al Día."
"Our Communications department graduates more Hispanics than any other such department in the nation, and our Latino Communications Initiative was conceived to focus on that population by developing curricular and co-curricular activities, increasing research opportunities, and serving as a workforce pipeline to Spanish and bilingual media organizations," said Mildred García, president of Cal State Fullerton.  "Our partnership with Univision and this launch is an example of the amazing things that can happen when we work together toward common goals that benefit our students and community."