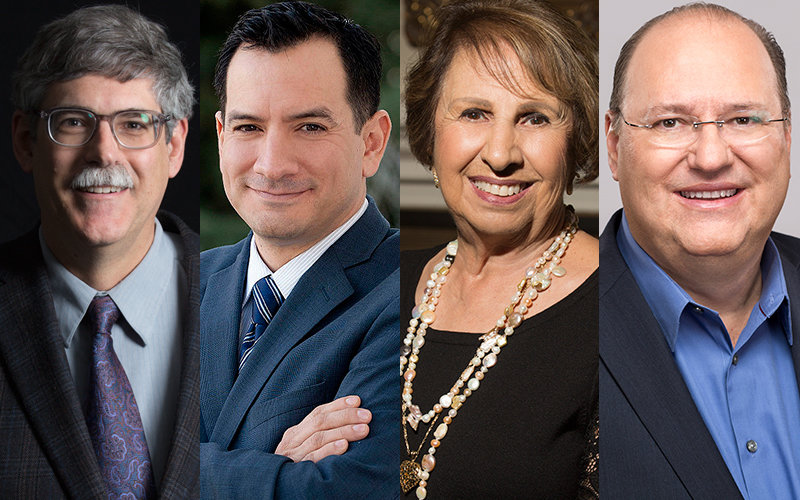 Three Titan alumni and an honorary alumna will be recognized for their service and support of the University on Saturday, March 4, during Cal State Fullerton's Vision & Visionaries dinner and celebration. The Vision & Visionaries awards are the highest honors that the University bestows on alumni and community supporters.
This year's honorees are:
Marilyn Brewer
Treasurer and corporate secretary, C. Brewer Co.
Honorary Alumna Award
Marilyn C. Brewer entered state politics in 1994 when she ran for an open seat in the California State Assembly and served six years, during which she was vice chair of the Appropriations and Insurance committees, and a member of numerous others. Her political career includes being founding chairman of the Orange County Coalition for Comprehensive Mental Health Services and, in 2006, appointed to the Little Hoover Commission by then Gov. Arnold Schwarzenegger.
Brewer and her husband co-founded the C. Brewer Co., a plastic custom-molding and assembly service company that grew to three facilities, employed more than 700 people and serviced customers around the world.
She established the Marilyn C. Brewer Scholarship to support re-entry students working toward a teaching credential, was a founding member of the Women of Distinction philanthropy support group and served on the CSF Philanthropic Foundation Board of Governors. Brewer has supported the University's Center for Healthy Neighborhoods, the Cal State D.C. Scholars Program, the Cybersecurity Student Club and the Center for Oral and Public History. In 2015, she was honored at the "Celebrating the Legacy of Orange County's Political History" event, sponsored by the Center for Oral and Public History.  
Walter Baranger '86 (B.A. communications-journalism)
Senior editor, New York Times (retired)
Distinguished Alumnus Award
Walter Baranger recently retired after 27 years at the New York Times, where he most recently served as senior editor for news operations. During his tenure, he logged more than 3 million airline miles traveling to more than 60 countries and nearly all of the U.S. states in support of the Times' newsroom.
His departure capped 46 years since he sold his first news story to the Los Angeles Times for $10. Over the decades, Baranger has worked as a reporter and editor at the San Diego Union and Evening Tribune, as a copy editor and columnist at the Press-Enterprise in Riverside and even as a reporter for high school sports at the Orange County Register. His accomplishments and awards include the New York Times Publisher's Award for introducing satellite communications to the newsroom, and an additional Publisher's Award for designing an online version of the Times Manual of Style and Usage.
While at CSUF, Baranger spent three semesters working on the Daily Titan and has remained an active Titan alumnus by regularly visiting the campus and offering expertise and mentorship to both students and faculty. He serves as a member of the College of Communications Dean's Advisory Board and supports scholarships and journalism program.
Anthony Rendon '92, '94 (B.A., M.A. political science)
70th Speaker of the California State Assembly
Distinguished Alumnus Award
Anthony Rendon is the first Titan to lead the California Assembly, where he represents the 63rd Assembly District. During his first term in office, he chaired the Water, Parks and Wildlife Committee and authored Proposition 1, the $7.5 billion state water bond. Now in his second term, Anthony authored Assembly Bill 530, a law that spurs much-needed revitalization of the lower portion of the Los Angeles River, and Assembly Bill 496, which connects schools with resources to improve the clean drinking water infrastructure. As chair of the Utilities and Commerce Committee, he led the ongoing effort to ensure accountability for the California Public Utilities Commission.
After graduating from CSUF, Rendon went on to earn a Ph.D. at UC Riverside, and completed postdoctoral work at Boston University. Prior to serving in the Assembly, Rendon was executive director of Plaza de la Raza Child Development Services Inc., a Los Angeles nonprofit agency, and taught political science at his alma mater from 2001-08. The following year, he served as interim executive director of the California League of Conservation Voters.
Bill Ruh '83, '84 (B.S., M.S. computer science)
CEO, GE Digital
Distinguished Alumnus Award
In addition to serving as CEO for GE Digital, Bill Ruh is senior vice president and chief digital officer. His responsibilities include the creation of GE's Digital Thread — a next-generation system for streamlining design, manufacturing and support processes. Ruh joined GE Digital in 2011 to establish the company's industrial internet strategy and lead the convergence of the physical and digital worlds within the corporation. During his tenure, Ruh led efforts to develop the first cloud-based platform for the industrial world.
Prior to GE Digital, Ruh served as a vice president at Cisco Systems, where he was responsible for developing advanced services and solutions. A 30-year veteran of the software and internet industries, Bill is an accomplished author and a frequent speaker on such topics as emerging business models, cloud computing, analytics, and more.
Last year, CSUF and GE Digital teamed up for the GE/California State University Innovation Challenge. Ruh was instrumental in securing the $150,000 grant to create this opportunity for students.
For more information about Vision & Visionaries, visit the event website or call 657-278-3480.