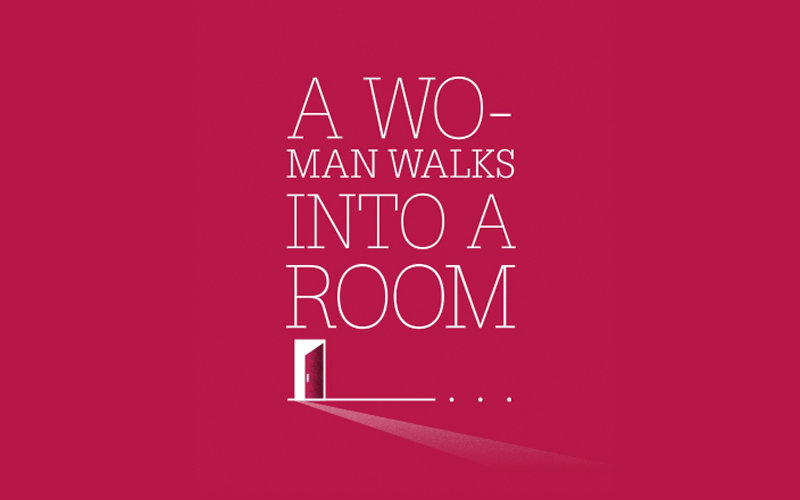 For screenwriter Rosanne Welch, the ripple effect of being the woman in the room begins like this: "The doctor walks in …"  
"All I have to do is write She says … and they have to hire a female. That's how powerful it is to have a female voice in a room," says the lecturer of cinema and television arts.
Female leaders are trending — on TV. And, much like in real life, it's taken decades to rewrite the script, says Welch. We need more women writers in the room and more female role models at the helm, at the corporate table, in the judge's chair, in political office — and not just on TV, she says.
"We do know that it's highly influential," she says of TV. "We need to kind of know something's real and then we highlight those existences in TV, and the public sees it more often, and then it becomes more real."
Women have led for generations in the United Kingdom, France, Norway and Germany, and multiple countries empower women to participate in leadership roles using quotas requiring governing bodies to have at least a minimum percentage of female representation. Yet 2016 was the first year a woman won the presidential nomination for a major party in the United States. And female representation in local and legislative politics has been slow to grow. 
"We've been late in terms of gender equality, in policy, even in politics," says Donna Nicol, associate professor of women and gender studies. "We've been late to get these policies in place, written and conceived. People don't start to move toward equality for women without a mandate. The lack of mandate has allowed these narrow ideas to harden over time."
"It is not surprising that women are in a position to rise to the highest levels of politics," says Stephen Stambough, professor of political science. Women have been increasingly successful at the senate and gubernatorial levels, in addition to other areas of leadership, such as business and the military, he adds.
"The success of [more] women at these levels leads to women's success at higher levels, including the presidency."
In the business world, the most success is gained through interdependent teams of people working together toward a common goal, says Julie Miller-Phipps '83 (B.A. sociology), president of Kaiser Foundation Hospitals and Health Plan in Southern California and a past chair of the Cal State Fullerton Philanthropic Foundation Board of Governors.
Studies in sociology at CSUF taught her foundational team dynamics and prepared Miller-Phipps to "read" a room for what might not be said aloud, she says. Investing in her team and holding them accountable builds strength, too.
"Most people will rise or fall to the level you expect of them. Because most of what is accomplished by the president is done by others once they understand the vision and strategy, coaching, mentoring and teaching where I can — and then letting them do
the jobs they were hired to do — are key," she says.   
Building Student Success
Women in leadership mentoring, classes, programs and research have an inter-disciplinary reach at Cal State Fullerton. Titan leaders like senior and CSUF Society of Women Engineers president Paulina Mendez say an early support system is crucial for female students seeking careers in male-dominated fields. Pairing young women studying engineering with a mentoring upper-division student and a working professional increases her chance of staying in the program, she adds.
"But it isn't enough to have a professional mentor. We need to support each other as women, as students, to build our own success story," says Mendez. 
"I don't necessarily need to meet the mentor who's building an empire, but I need to meet the woman who can share the tools she uses to succeed. All that helps me find my voice to help the women entering now as freshmen."
"I believe most women leaders that I have known ask better questions, build stronger, more committed teams and make better decisions because we understand how to consider the rational and emotional sides of issues," Miller-Phipps says.
At the curriculum core are Nicol's course on women in leadership offered by the Department of Women and Gender Studies and the Women's Leadership Program led by Mihaylo College of Business and Economics management professor Goli Sadri and             program director Joanna Moore.
Nicol requires her students to examine whether gender influences the current political climate and the economy's migration of jobs, and how those factors affect students' personal finances. Her students also draft executive summaries to local legislators in support of the students' assigned fictitious bills on issues often limited by labels as "women's issues." The projects increase the students' awareness of those politicians and their records on such issues as education costs, child care, equal pay and paid family leave, she says. 
"Women represent half the workforce, but only 4 percent of the top or CEO positions," says Sadri. "Something is impeding their progress."
That "something" is a bit of a labyrinth: a combination of skills women lack, decisions they make, prejudice and unconscious bias, and societal expectations, she says. 
The program, now in its second year, challenges 40 young women to recognize those challenges and develop their skills in four pillars of leadership: character, competence, context and communication. Talks with industry professionals are designed to help them develop skills in resilience, negotiation, advocacy, finding the correct balance between assertiveness and aggressiveness, and competencies necessary for leadership, mentorship and networking. 
"Women and men are part of the same solution," says Moore, the program's director. "Even though we are still trying to gain more women in top CEO positions, it's not going to happen by having some magical quota, and women don't want that anyway. They want to earn that position."
This year the BOLD Women's Leadership Network is launching a two-year beta program supporting 60 BOLD Scholars on four university campuses, including Cal State Fullerton. Established by the Pussycat Foundation in the spirit of longtime Cosmopolitan editor Helen Gurley Brown, the network is an intergenerational initiative across four institutions of higher education led by women presidents that have demonstrated their commitment to collaboration, innovation, diversity and inclusion. The BOLD Network is focused on developing courageous leadership among young women within higher education who possess the skills necessary to move discourse forward on some of our most challenging social issues. 
The Politics of LEADERSHIP
Natalie Fousekis, professor of history and director of the Center for Oral and Public History, launched the Women, Politics and Activism project in 2013 to record the experiences of 300 female leaders in five years. 
"The project is to understand the unique perspective that women bring to civic life," Fousekis says. "Faced with the reality of no women on the Los Angeles City Council in 2013, I asked 'How can we provide more models for young women so that they decide to get involved in public life?'
"Hopefully their stories will expose — not just to our students, but to high school students and young women — the models of leadership." 
Analía Cabral, a senior majoring in art and history, is one of 60 students recording and transcribing audio and video interviews with female leaders ranging in age from 25 to nearly 100. The collection will become a public and searchable database by the 100th anniversary of women's suffrage in 2019.
"A lot of these women — especially the women of color — even though they did not always succeed in running for office, they succeeded in showing that they were doing enough and helping in their communities," says Cabral.
The experience shaped how she'll teach her high school history class one day, Cabral adds. Lessons will include more about women who changed history, and she will focus on the history her students want to learn — about their own communities and cultures. She will encourage them to create their own oral history projects and ethnographies, too.  
"Women's histories aren't really recorded in the history books, especially in the K through 12 system," says Cabral. "Women are hardly even mentioned until college, and even then it's only when you're taking women's studies or ethnic studies courses.
"Students think history is only in the books and that it's not what's happening now. It is what's happening now. Today."