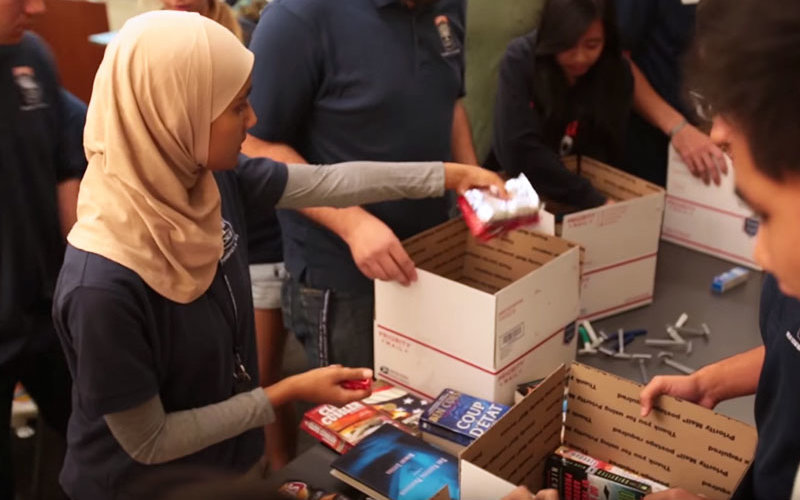 Cal State Fullerton students learn in classrooms and in labs, but they also learn through practical hands-on experience, including serving in the local community.  
Indeed, Titans have performed more than 1.4 million hours of service through course-related and voluntary service hours, high-impact practices, international service-learning opportunities and community partnerships.
To honor the efforts of students, as well as the support of partner institutions and faculty members involved in course-related activities, the University's Center for Internships and Community Engagement will host the April 19 Community Engagement Awards.
Among the honorees:
Outstanding Student Leader — Patricia Valdez, a senior human services major, is being recognized for her initiative and leadership while serving a human services practicum at St. Jude Medical Center. Valdez was nominated for volunteerism beyond the requirements of her practicum course.
Extraordinary Acts of Service — Paola Leiva, a senior majoring in both political science and philosophy, served a philosophy academic internship with the nonprofit Kids in Need of Defense. She is being honored for her dedicated efforts and for exceeding the course requirements of service.
Stewards of Place — Dick Huebner, lecturer in accounting, and Marsha Judd, lecturer in art
 Partners to be recognized:
Most Committed Partner Award — Buddhist Tzu Chi Foundation
Stellar Support of Students Award — Orange County Child Abuse Prevention Center
 
During the program, Jennifer Yee, associate professor of Asian American studies, will be recognized. She will be honored April 7 with the 2017 Community Engaged Scholar Award by the Western Region of Campus Compact.
The Community Engagement Medal will be conferred on graduating students who exceed departmental or degree requirements for academic internships and/or service-learning coursework and service hours.
The 4-6 p.m. Wednesday, April 19, program will be held in Portola Pavilion of the Titan Student Union. For more information regarding the recipients of the major awards, visit http://www.fullerton.edu/cice/awards/